11th September 2018
The 2018 UK & European Employee Engagement Awards extends its deadline and confirms its expert judging line-up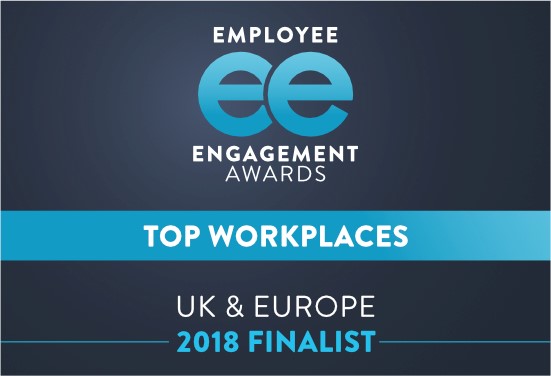 British Airways, HSBC, Innocent Drinks, L'Oreal, Oracle, Rolls Royce, Royal Bank of Scotland and celebrated visionaries just some of those on the independent judging panel
Entry deadline for those wanting to be named a top workplace is extended until October 12, 2018
Winners and Highly Commended will be announced at the Employee Engagement Awards Gala at Twickenham on January 24, 2019
The 2018 UK & European Employee Engagement Awards, (www.ee-awards.com) today announces it's extending its deadline to October 12, 2018 due to popular demand. At the same time, it confirms the final independent judging panel set to review entries and identify the top workplaces for employee engagement from across the British Isles and Europe.
Companies that believe they are a great place to work can enter the overall company of the year or specific sector. There are further categories focused on areas such as: Wellbeing, Diversity & Inclusion, Internal Communications, Employer Brand, Benefits, and Technology. To see the full line up – visit https://uk.ee-awards.com/
An unrivalled independent judging line-up
As Employee Engagement spans across an entire organisation, our panel has become a reflection of that. It boasts experts in HR, Internal Communications, Employee Benefits, Employer Brand, Culture, Diversity & Inclusion, L&D, customer experience, senior management and much more. Our panel is as follows:
Aimee Lucas – Vice President, Temkin Group
Andy Campbell – HCM Strategy Director at Oracle EMEA
Dan Hardaker – Head of HR, Star Pubs & Bars, Heineken UK
David Ducheyne – Founder, Otolith
David Littlechild – Head of Culture & Engagement, Lloyds Banking Group
Douglas Lamont – CEO, Innocent Drinks
Drew McMillan – Head of Colleague Communication & Engagement, British Airways
Gamiel Yafai – Author 'Demystifying Diversity'
Jenni Field – Director, Redefining Communications, The Big Yak
Karin Volo – Chief Joy Bringer, Evoloshen
Kate Reilly – Director of People and Organisational Development, PPL
Marjorie Strachan – Global Head of Inclusion, RBS
Natalie Sigona – Diversity & Inclusion Consultant, Rolls Royce
Pag Miles – Global Head of Partnerships at Alexander Mann Solutions
Paul Gilliam – HR Director UK & Ireland, L'Oreal
Peter Wakefield – Founder, Loving Monday
Rachel Miller – Director, All Things IC consultancy
Ruth Dance – Managing Director, The EEA
Ruth Jackson – Group People Director, Côte Restaurants
Sam Dawson – Founder, The Engaged Culture Company
Sean Trainor – Employee Engagement & Change Management Consultant
Sesil Pir – Founder, Sesil Pir Consulting
Simon Garcia – Head of Comms & Employee Engagement, HSBC & Technology
Thomas Anderson – Founder, Inclusive Networks
Tim Withnall – People Manager, RSA Group
Tom Debenham – MD, People Insight
Matt Manners, founder and CEO, The Employee Engagement Awards, "We are over the moon with the judging line-up we have secured. One of the reasons this calibre of judges is involved is because we have always maintained their independence.
We look forward to presenting this year's judges with a stellar set of entries that represent best-in-class employee engagement programmes from across the top workplaces in the UK and Europe. We encourage organisations large and small from every sector of endeavour to showcase their great work – safe in the knowledge that it will be scrutinised by thought-leaders in the world of employee engagement."
Key dates & Fees
October 12, 2018 – Entries close
November 2018 – Finalists announced
January 24, 2019 – Awards Ceremony
April 2018 – Employee Engagement Conference
Standard entry – £165 ex VAT
Late entry – £200 ex VAT
Sponsorship
There are still some opportunities available for companies to sponsor the awards. For more information please contact [email protected]
The Employee Engagement Awards (EE Awards) is the home of great workplaces and those that aspire to be them.
As the first and only global dedicated Employee Engagement Awards & conference business, we believe in inspiring & educating people to remake the way organisations think about and engage, people to achieve their purpose.
In four years since we were founded, we have evolved into much more than our name suggests. We can be found on four continents, offer recognition through our awards program, education through our conferences and inspiration with our rich content 24/7 365 days a year.
The EE Awards provides organisations both industry acknowledgement and an important competitive advantage that recognition as a top workplace provides in attracting the best talent.
For more information on The Employee Engagement Awards:
Matt Manners
+44 (0)203 3711 877
+44 (0) 7799876473
#ee_awards
LinkedIn Group: The Employee Engagement Awards