16th March 2021
#2 Meet the judges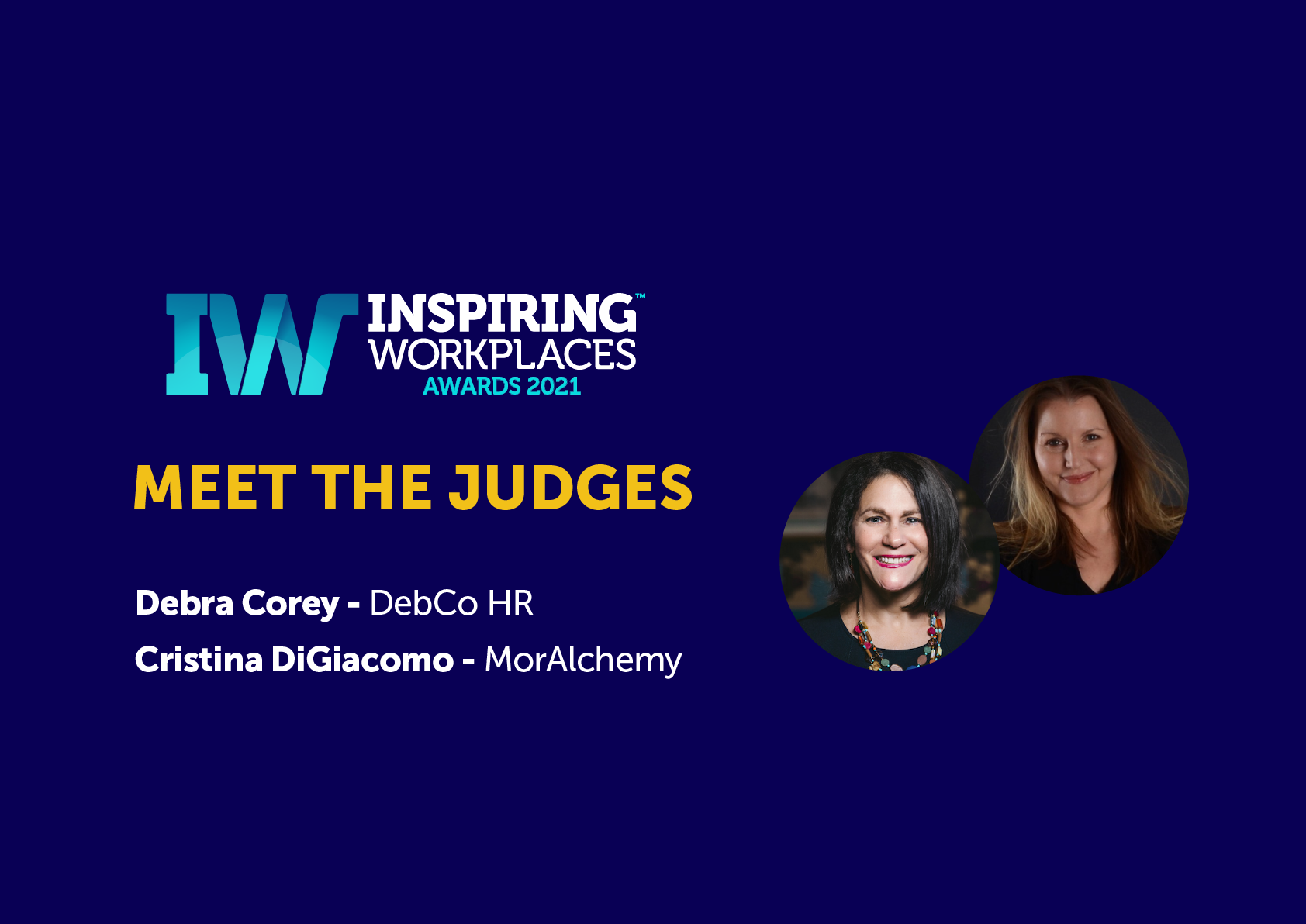 IW: Today, we're delighted to be joined by two of our 2021 North America judges for the Inspiring Workplaces Awards. Welcome: Debra Corey, Chief 'Pay it Forward' Officer at DebCo HR LTD and Cristina DiGiacomo, Founder, MorAlchemy.
Firstly, we wanted to ask you all, what does an Inspiring Workplace mean to you?
CD: Everyone deserves to have a good day at work, every day. An Inspiring Workplace is in service to that.
DC: I completely agree. To me an Inspiring Workplace is a place where employees genuinely want to be, where they can be themselves, learn and grown, and where they work together to help their company succeed.
IW: You both mentioned the importance of your people. What are three areas of focus for organizations looking to improve the people experience?
DC: There are so many, but based on 2020, the focus areas that are most important now are communication (communicating in a open, honest and effective way), recognition (helping employees feel appreciated) and management (developing our managers to meet the changing needs of our people).
CD: I would add, Equity and Parity, Work/Life balance, Career Growth Trajectories
IW: Following on from that, what do you think is the top priority when it comes to people at work this year and why?
DC: I think it is understanding how their needs have changed and then adapting what we do to support them. It's critical that we start with this understanding and then take action driving real change and not just put band aids on existing programs and ways of working.
CD: That's true, I also think a reversal of the legacy notion that people serve the company. The priority is to shift the organization's values to where it serves the people.
IW: The past 12 months have seen an acceleration of positive change, mostly due to it being enforced upon employers. Changes such as finally trusting and empowering people, flexibility, investment in wellbeing and the reduction in the stigma around mental health. Our question is, how many employers will stick to this path and how many revert to type?
CD: I feel we have yet to see how this will all play out. So really it's still in the phase of change. So the question isn't who is reverting but who is actually changing vs. those who are not. And those who are not, will not be players in the market or will not be able to sustain their people models for long and be forced to change after it's too late.
DC: I'm an optimist, so I'm going to say that many companies will stick to this path, at least when it comes to some areas. Our role in HR is to fight the battle against reverting back, reminding the business the difference it made in the past and the difference it can make in the future.
IW: Leadership plays a huge role in everything we've just spoken about, What do you think is the most important quality in a leader?
DC: Again, there are so many, but if I had to pick one it would be caring, caring for the needs of their people at the same time as caring for the needs of the business, understanding what they both want and need and doing what it takes to care and support them.
CD: Plato said the most important role for a leader is to be the Educator. Their job is to educate the citizenry (in our context, employees) about the actions of leadership. Leaders who are open, transparent, who take the role of the teacher, gain a closer connection with their employees. Plato said that a leader needs to embody what he called the 4 Excellences: wisdom, courage, love, and the desire to be a good leader. So a leader must have all these qualities.
IW: Taking all that into account, as a judge for the 2021 EMEA Inspiring Workplaces Awards, what do you hope to see in the entries?
DC: I hope to see companies that did (and do) things in their own unique way based on a deep understanding of the needs of their people and their business, and can show the difference and impact that this has made. I want to be wowed and left thinking how creative and strategic what they did was.
CD: I'm hoping to see companies do the basics well across the board. I feel we still haven't achieved the actions and universality necessary to create great workplaces yet. We are beyond talking about the Captain Obvious stuff at this point, let's see who's actually implementing the right things consistently.
IW: Now on to a few more personal questions. Who was the last person to inspire you at work and why?
CD: I was inspired by a woman I'm in a group with because she was talking about how she was really struggling and she got very emotional. It was so raw and real. I felt my heart go out to her. I found her inspiring because it was a reminder that we're all in this together and there a lot of people suffering. It made me realize that the mission of Inspiring Workplaces could not be more relevant than right now.
DC: That would be Glenn Elliott, who was my boss and the co-author of one of my books. He inspired, and continues to inspire me in how he looks at situations, being able to cut through to what matters most and what will truly make a difference. He pushes me to do my best work and be my best person.
IW: On to our penultimate question: What's the best advice you were ever given? Who was it from?
DC: I would again say Glenn, and the advice is to constantly question and challenge what you do, not jumping and doing what you've always done in the past, but asking 'why' and pushing yourself to look at do things.
CD: So this advice is more an example of what and who to be as a leader. It is something I will never forget. It was 15 years ago and I had really screwed up a project, I didn't know what I was doing and the project was way over budget. So I had to talk to my boss about it and I was really nervous. So I told him what was going on and how sorry I was. And he said to me, "Cristina, there's nothing you can do that I can't fix." At that moment, I felt so forgiven
IW: Some great advice there that we'll be sure to remember. Finally, we love music and find any chance to weave it into our events, interviews and podcasts!  Name one song that fires you up, when you need to get motivated and fast.
CD: Drinkee – Sofi Tukker
You can enter the Inspiring Workplaces Awards ahead of April 8, 2021 here.