11th October 2023
The 2023 Top 25 Work Tech Vendor list announced today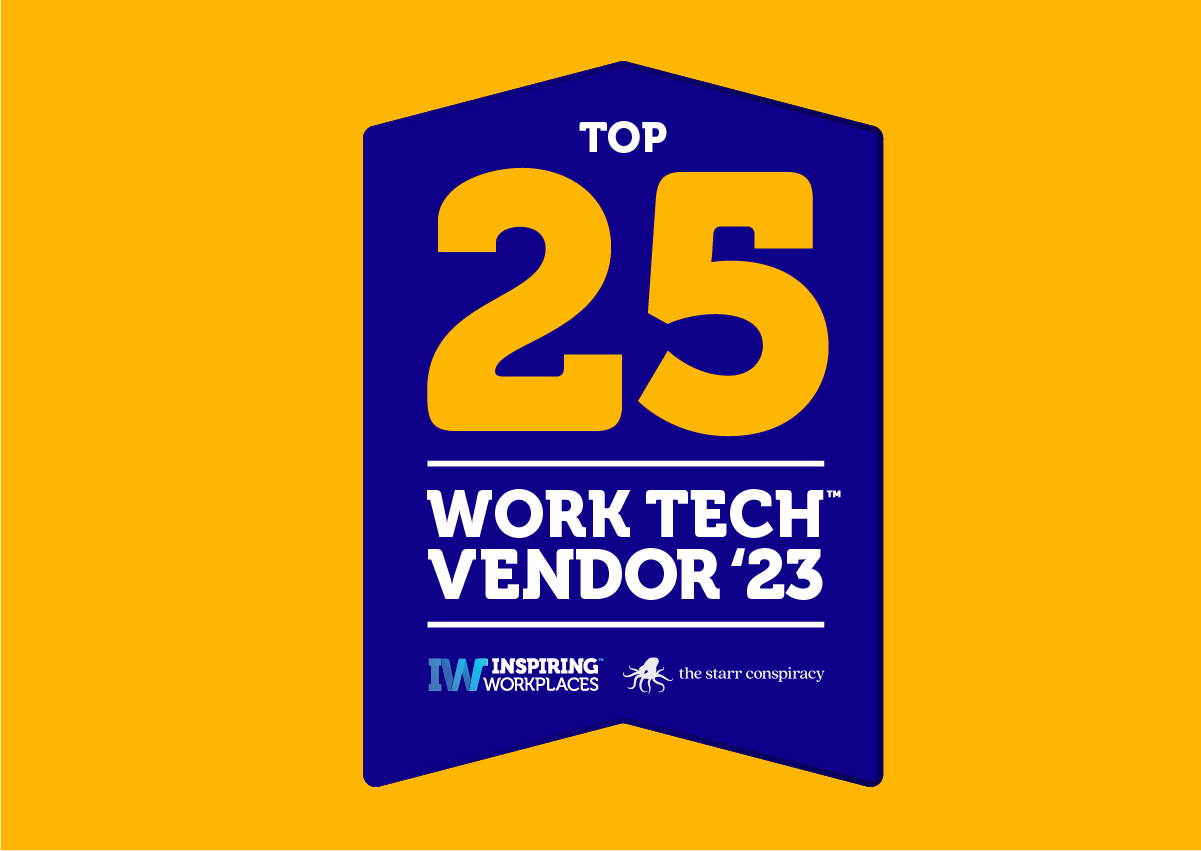 A global list of the best-in-class work tech administered by The Inspiring Workplaces Group and The Starr Conspiracy

Winners selected by independent judges include organizations such as Benefex, Firstup, HiBob, Plum, Virgin Pulse and WorkTango 
New York and London – October 11, 2023 – The 2023 Inspiring Workplaces Work Tech Awards in partnership with The Starr Conspiracy today announces its winners from all corners of the globe. 
Matt Manners, founder of The Inspiring Workplaces Group commented, "Congratulations to the Top 25 Work Tech Vendors. These awards celebrate the success and diverse range of technologies that we believe can be a serious catalyst to driving positive change for an organisation and the people within it. If you need help, look no further than this Top 25!".

The Top 25 Work Tech Vendors (in alphabetical order)
Arist

Benefex

BrightHR

Engagedly Inc.

EY Skills Foundry

Fama Technologies, Inc.

Firstup

Gloat

Harkn

HiBob

hireEZ

Mindr

Mineral

Pathstream

Performica

Plum

Quantive

Quantum Workplace

ServiceNow

SkillCycle

Virgin Pulse

When I Work

WorkJam

Worksome

WorkTango
Each vendor was asked to complete a six-part submission discussing the impact on their own people, customers, purpose and more. Over a hundred vendors were then reduced to the Top 25 by independent judging. 
Open for entries globally – 2024 Inspiring Workplaces Awards
Want to have the chance of being named in The Top Inspiring Workplaces lists around the world? We are now open for 2024 entries! Discover the regions and download the entry pack here.

Partner with Inspiring Workplaces
There are various opportunities for organisations to partner with Inspiring Workplaces. For more information please contact [email protected] 
About Inspiring Workplaces – change the world
Inspiring Workplaces is headquartered in the UK and operates in North America, Asia, Europe, Middle East & Africa, Latin America and Australasia. Inspiring Workplaces™, believes in recognising and shaping the new, forward-thinking organisations of the future. By shedding the light on these innovative workplaces, Inspiring Workplaces helps to encourage positive change in workplaces as well as provide a source of inspiration and education for those who seek it.
About The Starr Conspiracy
You're busy creating the future of work. You don't have time to teach an agency what you do. At The Starr Conspiracy, your work is our business. Brand or demand. Traction or scale. We accelerate results. Find out how at thestarrconspiracy.com.
For more information on Inspiring Workplaces:
Matt Manners
+44 (0) 7799876473
Twitter/Instagram: @inspireworknow
LinkedIn Group/ Facebook: Inspiring Workplaces