01st February 2023
Top 20 Articles on Workplace Culture for January 2023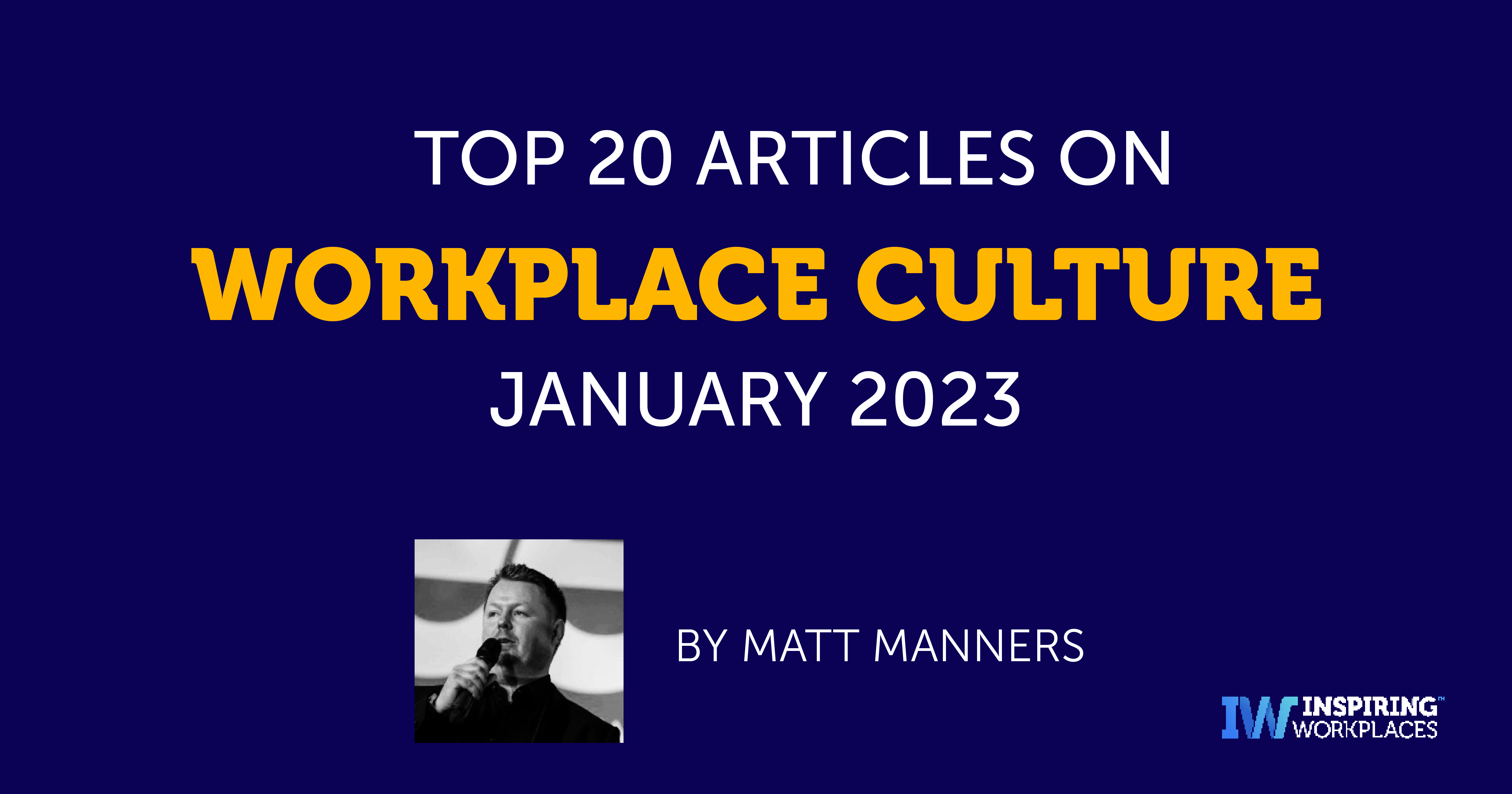 Welcome to the Inspiring Workplaces Top 20 Articles on Workplace Culture for January 2023.
We want to help inform and inspire you from some of the best content out there. Each month we will consolidate these articles for you to help give you a quick and easy snapshot. To help drive you and your organisations forward.
The articles will be underpinned by six key elements that are reflected in our awards. They are:
Wellbeing
Culture
Leadership
Inclusion
Employee Engagement
Communication
The transformational benefits of treating every employee as a leader
By: Livia Martini
Source: Fast Company
Read the full article here.
Our key takeaways for you:
A study from the O.C. Tanner Institute found that organizations "that treat every employee as a leader create the best leaders —and the best cultures."
These companies have higher scores across 10 different metrics, such as engagement, inclusion, and employee experience. Burnout levels drop.
Why does this happen? Because it delivers a fundamental shift that gives people "greater autonomy and opportunity" and broadens development opportunities, the report explains.
To make this system work, you need to establish what leadership means in the organization. At Gympass, we make clear that leaders have the responsibility and accountability to make decisions. Not only do they have permission to create new projects and try out new ideas within their scope, they are expected to.
When you establish that everyone is a leader, employees are more willing to take risks. It becomes an everyday norm. Along with this innovation comes accountability for results. Employees need to pay close attention to the consequences of their choices, correct what goes wrong, and keep looking for ways to refine and improve.
We also tell our staff that being a leader means more than just creating new ideas and projects and seeing them through. We have a leadership model with three pillars that we apply to all employees: Build trust; inspire and empower others; and drive performance.
In career conversations and performance reviews, we speak with each employee about these pillars, and look for them to demonstrate actions in keeping with each category. What have they done recently to build trust with fellow employees and/or customers? How have they inspired or empowered colleagues? How have they affected organizational growth?
Establishing that everyone is a leader also helps to ensure that there are plenty of terrific, capable internal candidates for promotions to management positions.
Promoting internally is often better than hiring from the outside. Internal candidates have organizational knowledge and relationships. Promoting them increases longevity at the company overall, while rejected internal candidates are likely to leave.
Yet in one study, 40% of managers were nevertheless hired from the outside. Such a high figure suggests too many companies are failing to build enough internal talent.
Through internal surveys, we've seen the results of this system. Employees express a greater sense of purpose and connection to the company. More people than ever say they work in a place that genuinely cares about people.
4 Rare Workplace Habits of Exceptionally Happy Employees
By: Marcel Schwantes
Source: Inc.
Read the full article here.
Our key takeaways for you:
In the modern workplace, getting you on the road to more happiness is easier said than done with so much stress and competing priorities. To those truly committed employees and their leaders, change is required. Here are four starting points to pave the way to more workplace happiness.
Have a generous mindset: Being generous and doing things for others naturally makes you feel happy. But now, studies have discovered that even thinking about doing something generous can boost your brain's happiness levels.

Brain scans of study participants who simply pledged to give money to a cause showed it was enough to make them happier. Researchers found that the intent to be generous was linked to activity in the ventral striatum, an area important in the feeling of happiness.

Practice acts of kindness: One previous study published in the psychology journal Emotion found that both givers and receivers of acts of kindness in the workplace enjoyed positive benefits. The givers in the study enjoyed higher levels of life satisfaction and job satisfaction, and fewer depressive symptoms.

Receivers of kindness, however, didn't just enjoy acts of kindness — they paid them forward. At the conclusion of the study, the receivers reported engaging in nearly three times more pro-social behaviors than the controls. This strongly suggests that workplace acts of kindness create virtuous cycles within teams, benefiting recipients and givers alike, but especially the organization as a whole to produce good work.

Practice forgiveness: Forgiveness is rarely discussed or practiced in a transactional work environment lacking connection and care. But workplace research found that forgiveness was "linked to increased productivity, decreased absenteeism (fewer days missing work), and fewer mental and physical health problems, such as sadness and headaches."

As Greater Good Science Center reports, if people we work with hold on to negative feelings after a conflict, and if they can't cope by forgiving, you can expect the likelihood of disengagement, a lack of collaboration, and aggressive behavior to follow.
On the other hand, if we learn and master this virtuous practice as an organizational value, forgiveness can be an effective way to restore trust and set things right with colleagues and bosses alike.

Seek healthy relationships: The research states that close, trusting, and supportive relationships lead to strong collaboration and are critically important to people's state of mind at work. In another study I've covered, supportive co-worker relationships are an important driver of a positive work experience.

When those relationships are present in the workplace, employees report a much more positive employee experience than when that support is absent (77 percent compared with 35 percent).
Businesses Succeed With Women In Leadership, It's Time To Make The Workplace More Equitable For Women
By: Kara Dennison
Source: Forbes
Read the full article here.
Our key takeaways for you:
Companies are working to incorporate more DEI (Diversity, Equity, & Inclusion) practices. It's no secret that businesses succeed with women in leadership and it's time to make the workplace more equitable for women.
Women run only 4.8% of the world's largest businesses, and only 8.8% of Fortune 500 CEOs are women.
Another survey finds that women return to the workplace slower than men after the pandemic due to family responsibilities and lack of support.
Even when women hold leadership positions, they are burning out at a faster rate than their male counterparts.
In an ideal world, there would be no reason to consider how women in leadership benefit the company. Any business that truly reflects its diverse consumer market would already have an equitably staffed workplace.
…since the pandemic in 2020 and "The Great Resignation" in 2021, many women have left their careers, searching for more opportunities to advance (48%), better support from senior leadership (22%), more flexibility (20%), more equitable workplaces focused on DEI (18%), and companies committed to wellbeing (18%)

2% of gender diverse companies report increased profits and productivity
8% report an increased ability to attract and retain talent
4% report greater creativity, innovation, and openness
1% report enhanced company reputation
5% report a better ability to gauge consumer interest and demand

Another unfortunate statistic is that women in leadership also decrease the likelihood of crime and scandal in the workplace.
Real change must happen where the problem begins, with the decision-makers and leaders who perpetuate inequality. This issue needs to go beyond simply having more women in leadership.
Leaders need to ensure that the women in their workplaces receive adequate credit for their work or even unburdened from them. Empower your workers to say no to unfair asks.
Suppose the definition of workplace culture is the routine practice of group behaviors. In that case, leaders should ask what everyday behaviors make their workplaces unhealthy.
When leaders keep their eyes and ears out for signs of microaggressions, it can help to illuminate group behaviors that may have gone unnoticed before. How often are people commenting on a woman's workplace attire? How are women being talked about or addressed? Are the women on the team continually being interrupted or shut down in meetings?
Winter Blues: Simple Ways to Boost Your Team's Wellbeing This Winter
By: Editorial Team
Source: HR News
Read the full article here.
Our key takeaways for you:

In the US alone, 10 million people experience seasonal affective disorder, caused by a lack of serotonin that you would usually get from sunlight.
Cold days and dark nights can largely impact a company's team spirit and productivity, while bringing additional hazards to the work environment – meaning managing teams during this time can come with increased hurdles and roadblocks.
Celebrate company and employee wins: A great way to jumpstart the new year is to review what you accomplished the prior year and reward your employees and teams for their accomplishments. Post-holiday blues means the early months of winter are usually in much need of some extra positivity, so there is no better time to celebrate team wins, however small.

Creating an environment where employee appreciation is the norm, will not only attract and retain top performers but will contribute to their overall well-being. So whether it's a team dinner, award, or gift voucher, there are a whole host of ways to show your appreciation.

Ensure additional training is readily available to your team: Providing training is key to being a great employer. So whether it's safety related or something else, employees should be well-aware of the training options available to them.

Make sure your whole team knows what they have access to – if it's in-person training sessions, online EHS resources or any other support.
Ensuring employees are able to confidentially get any help they need and feel supported and protected is essential. In doing so, you are creating a safe working environment that will ultimately boost employee mental well-being through the winter and beyond.

Provide wellness benefits: Wellness benefits have become an integral part of corporate culture. Today, an impressive 80 percent of American businesses (with over 50 employees) offer some sort of wellness benefits, averaging around $750 per person, per year.

Providing a wellness program can help employees feel valued, and in return improve the productivity and morale of your team.

Create a strong sense of community: Creating a community can be done in a variety of ways. For one, boosting communication, through chat platforms such as Slack or Teams, or engagement via company social media accounts, can help employees feel like they are in the know. Organizing events is a great way to get people together and connect with one another. And offering options for sub-communities and clubs can also be a fantastic way to interact with colleagues and other teammates through shared connections or interests, such as fitness or crafts.

Regularly reaching out to catch up and check in can also make all the difference in making an employee feel connected.
Collaborative Overload
By: Rob Cross, Reb Rebele, and Adam Grant
Source: Harvard Business Review
Read the full article here.
Our key takeaways for you:

According to data we have collected over the past two decades, the time spent by managers and employees in collaborative activities has ballooned by 50% or more.
Certainly, we find much to applaud in these developments. However, when consumption of a valuable resource spikes that dramatically, it should also give us pause
Consider a typical week in your own organization. How much time do people spend in meetings, on the phone, and responding to e-mails? At many companies the proportion hovers around 80%, leaving employees little time for all the critical work they must complete on their own.
What's more, research we've done across more than 300 organizations shows that the distribution of collaborative work is often extremely lopsided. In most cases, 20% to 35% of value-added collaborations come from only 3% to 5% of employees.
As people become known for being both capable and willing to help, they are drawn into projects and roles of growing importance. Their giving mindset and desire to help others quickly enhances their performance and reputation.
it's important to distinguish among the three types of "collaborative resources" that individual employees invest in others to create value: informational, social, and personal.
Informational resources are knowledge and skills—expertise that can be recorded and passed on. Social resources involve one's awareness, access, and position in a network, which can be used to help colleagues better collaborate with one another. Personal resources include one's own time and energy.
We typically see an overlap of only about 50% between the top collaborative contributors in an organization and those employees deemed to be the top performers.
As we've explained, many helpers underperform because they're overwhelmed; that's why managers should aim to redistribute work. But we also find that roughly 20% of organizational "stars" don't help; they hit their numbers (and earn kudos for it) but don't amplify the success of their colleagues.
Consider professional basketball, hockey, and soccer teams. They don't just measure goals; they also track assists. Organizations should do the same, using tools such as network analysis, peer recognition programs, and value-added performance metrics.
Efficient sharing of informational, social, and personal resources should also be a prerequisite for positive reviews, promotions, and pay raises. At one investment bank, employees' annual performance reviews include feedback from a diverse group of colleagues, and only those people who are rated as strong collaborators (that is, able to cross-sell and provide unique customer value to transactions) are considered for the best promotions, bonuses, and retention plans.
The future of leadership is kindness
By: Carina Parisella
Source: bluenotes
Read the full article here.
Our key takeaways for you:

"We've placed over time so much emphasis on notions of assertiveness and strength that we have assumed it means you can't have those other qualities of kindness and empathy." – Jacinda Ardern
Why is it we value living a happy, fulfilled and loving life but at work some feel the only way to get ahead is to use power and toughness as a tool? In life, we actively remove ourselves from toxic relationships as we know it's unhelpful so why, in the context of work, should it be any different?
There is no science behind the idea that being nice, charismatic or likeable means you are more likely to be a push-over or that people won't respect you. It's an old-way of thinking with a lack of evidence to back-it-up.
The science however does tell us people are more likely to leave their jobs because of a lack of support or connection to their boss.
A 2019 US study revealed 57 per cent of employees quit because of their boss. Another 14 per cent have left multiple jobs because of their managers and an additional 32 per cent have seriously considered leaving because of their manage.
Gallup finds year after year in its surveys of US workers that "receiving a compliment, words of recognition and praise can help individuals feel more fulfilled, boost their self-esteem, improve their self-evaluations and trigger positive emotions."
Google's intense data collection and number crunching have led it to the same conclusions that good managers have always known. In the best teams, members listen to one another and show sensitivity to feelings and needs.
In the McKinsey book CEO Excellence, which looks at how excellent CEOs align the organisation, it was noted all 67 CEOs featured in the book treated the soft stuff just like the hard stuff. They put equal rigor into how they handled topics like talent, culture and organisation design. They know this is a source of competitive advantage when they get it right, not if they do.
3 leadership principles that build trust
By: Joe Atkinson
Source: Fast Company
Read the full article here.
Our key takeaways for you:

LEAD WITH TRANSPARENCY: Leading transformation efforts of any kind requires elevating employees' needs alongside those of the organization. And though you can't always achieve a perfect win-win, being transparent about why you're making efforts and investments goes a long way toward building trust and employee buy-in.
DELIVER ON COMMITMENTS AND INVESTMENTS: If you make the decision to transform your business, you need to deliver on the transformation. Incomplete measures or programs that produce little or no benefit to the business can quickly deliver the opposite of their intended effect. They can disillusion your workforce, undermine your organization's agility and competitiveness, and weaken trust.

We know that 53% of leaders are investing in digital transformation and automating the daily tasks that take away from time that employees can spend being more productive and creative. For us, our methods for timesheets, calendars, and desk reservations were antiquated and time-consuming. So, taking advantage of our own solutions built by our people, we deployed a virtual digital assistant. This helped to simplify necessary clerical tasks and unlock time for employees to do higher value work.

INSPIRE NEW WAYS OF WORKING THROUGH TECHNOLOGY: We can all tell our people to work differently, but that usually leads to the uninspired response of, "How do you want me to do it?"

Instead of dictating how people should do their jobs, empower your employees by equipping them with new skills and technology and encourage them to share all the new ways they get their work done with their colleagues.
Continue to nurture their growth by identifying areas for them to stay competitive and take closer looks at company-wide initiatives that may need a digital refresh. Putting the power in the hands of your employees will not only better the health of the business but also build sustained trust.
Business leaders should respond to today's challenges by evaluating how their organizations use technology to deepen human connections, and to embrace these outlined principles to strengthen trust within their workforces.
If the last couple of years resulted in technology being the primary connector of people, the future will require us to figure out what a hybrid workplace truly looks like. This new dynamic is why we talk about being human-led but also tech-powered. Your business cannot, and should not, be limited to one or the other.
The Growing Role Of Pay In Employee Experience and Business Performance
By: Josh Bersin
Source: joshbersin.com
Read the full article here.
Our key takeaways for you:

For the last three years we've been worried about burnout, mental health, and work life balance during the pandemic. This week a new issue has emerged. A new Mercer study of employee sentiment found that pay has suddenly become the number one factor in satisfaction at work
While opportunity to grow and a sense of belonging remain top drivers of engagement, among these 4500+ workers, pay now matters more.
There's no surprise why this is happening. The rate of inflation is extraordinary and everyone is tired of high prices. But for employers, it has a very special meaning because pay practices are among the most legacy and old-fashioned practices of HR.
Pay Equity, which is the process of ensuring equal pay for equal work regardless of gender, ethnicity, or other demographic factor, is becoming a common practice.
The most recent BLS data shows that wages are increasing at about 5% per year, which is not as high as inflation. But of course, inflation varies by location and mix of goods, so the 5% number is reasonably high based on historic practices. It's often around 1.5-2% and occasionally over 3%. That leaves you with a question: do you increase wages at a 5% base pay before you add performance bonus?
Non-cash benefits are increasing at around the same rate as pay (4.9%), and the BLS research shows that American companies now spend close to 33% of their payroll on this myriad of employee support programs. (This percentage has increased by 32% in ten years.)
Remember that pay is what we call a "hygeine factor." When it's not high enough people will leave, but making it every higher has a rapidly diminishing return. Most employees come to work for much more than money: they want an opportunity to grow; they want a career; they want to work on projects that are exciting and interesting; they want the workplace to be safe; and they want to work with people they like and trust.
We've also seen that high levels of pay can sometimes create an entitlement. People get accustomed to these salaries and when times get tough they may leave. So again, you should make these decisions deliberately.
Communication is extremely important. People don't always know why they're paid as they are, and they will share their raises with others. The best companies take these issues head on: they communicate pay strategies clearly.
The Mercer research points out that many hourly workers see pay as a survival or lifestyle issue. Pay is eaten away by commute costs, student loan debt, credit card debt, and other financial overhangs. These employees bring these stresses into work: if an employee is worried about rent or buying groceries, they aren't likely to be very productive. So there are many new options for the delivery of benefits that help.
Remember this: we are all becoming service companies. While we account for pay as an expense, it's really a big investment. By carefully investing in the right rewards strategy you are improving people's lives, which in turn makes them more productive for you.
7 Proven Ways To Develop A Growth Mindset
By: Dr Travis Bradberry
Source: LinkedIn
Read the full article here.
Our key takeaways for you:

When it comes to success, it's easy to think that people blessed with brains are inevitably going to leave the rest of us in the dust. But research from Stanford University will change your mind (and your attitude).
Psychologist Carol Dweck has spent her entire career studying attitude and performance, and her latest study shows that your attitude is a better predictor of your success than your IQ. Dweck found that people's core attitudes fall into one of two categories: a fixed mindset or a growth mindset.
With a fixed mindset, you believe you are who you are and you cannot change. This creates problems when you're challenged because anything that appears to be more than you can handle is bound to make you feel hopeless and overwhelmed.
People with a growth mindset believe that they can improve with effort. They outperform those with a fixed mindset, even when they have a lower IQ, because they embrace challenges, treating them as opportunities to learn something new.
According to Dweck, success in life is all about how you deal with failure. She describes the approach to failure of people with the growth mindset this way, "Failure is information—we label it failure, but it's more like, 'This didn't work, and I'm a problem solver, so I'll try something else.'"
Don't stay helpless. We all hit moments when we feel helpless. The test is how we react to that feeling. We can either learn from it and move forward or let it drag us down. There are countless successful people who would have never made it if they had succumbed to feelings of helplessness: Walt Disney was fired from the Kansas City Star because he "lacked imagination and had no good ideas," Oprah Winfrey was fired from her job as a TV anchor in Baltimore for being "too emotionally invested in her stories," Henry Ford had two failed car companies prior to succeeding with Ford, and Steven Spielberg was rejected by USC's Cinematic Arts School multiple times. Imagine what would have happened if any of these people had a fixed mindset. People with a growth mindset don't feel helpless because they know that in order to be successful, you need to be willing to fail hard and then bounce right back.
Be passionate. Empowered people pursue their passions relentlessly. Empowered people's passion is what drives their unrelenting pursuit of excellence. Warren Buffet recommends finding your truest passions using, what he calls, the 5/25 technique: Write down the 25 things that you care about the most. Then, cross out the bottom 20. The remaining 5 are your true passions. Everything else is merely a distraction.
Take action. It's not that people with a growth mindset are able to overcome their fears because they are braver than the rest of us; it's just that they know fear and anxiety are paralyzing emotions and that the best way to overcome this paralysis is to take action. People with a growth mindset are empowered, and empowered people know that there's no such thing as a truly perfect moment to move forward.
Then go the extra mile (or two). Empowered people give it their all, even on their worst days. They're always pushing themselves to go the extra mile. If you aren't getting a little bit better each day, then you're most likely getting a little worse—and what kind of life is that?
Expect results. People with a growth mindset know that they're going to fail from time to time, but they never let that keep them from expecting results. Expecting results keeps you motivated and feeds the cycle of empowerment. After all, if you don't think you're going to succeed, then why bother?
Be flexible. Everyone encounters unanticipated adversity. People with an empowered, growth-oriented mindset embrace adversity as a means for improvement, as opposed to something that holds them back.
Don't complain when things don't go your way. Complaining is an obvious sign of a fixed mindset. A growth mindset looks for opportunity in everything, so there's no room for complaints.
Bringing It All Together. By keeping track of how you respond to the little things, you can work every day to keep yourself on the right side of the chart above.
Six Signs Your Hybrid Workplace Plan Isn't Working
By: Alexandra Samuel
Source: Wall Street Journal
Read the full article here.
Our key takeaways for you:

More and more businesses have at least a portion of employees who spend some of their time working in the office and some time working remotely, but it's not always clear whether they've arrived at the "right" hybrid model—that is, the version of hybrid that boosts individual productivity, team collaboration and organizational innovation.
But even if your employees are returning to the office as required, you can't assume that everything is going great. You need to tune into other, less-obvious—but just as crucial—signs that not all is happy in your house of hybrid.
Managers are out of sync with their teams: If managers are spending a lot more time in the office than their teams are—or a lot less—you have a problem.

For one thing, if your boss spends most of the time in the office, even though the official line is that you're welcome to spend two days a week at home…well, it's hard not to feel uneasy about working remotely.

Video calls persist for on-site employees: If your hybrid approach isn't reducing the volume of video calls, it is a sign that you're failing to make the most of your staff's in-office, face-to-face time, or that you are making people come into the office for no reason. After all, why make people trudge to the office if they are just going to spend yet another day on video calls?

One solution is to align the on-site hours of people who work together. Yes, that will reduce some individual flexibility. But many employees will happily exchange some flexibility for fewer video meetings. One other benefit: Fewer video calls means less Zoom fatigue.

Work hours are expanding: Maybe some executives still see 12-hour workdays as a badge of honor, but for a lot of employees, that just leads to burnout and resentment. And that's one risk of a hybrid schedule, since days crammed full of video calls and meetings often push other work (like email, planning and report writing) into the wee hours.
It's easy enough to find out: Your company's email and text records can tell you if employees are online more than they ideally should be. (It's crucial to look at average usage across entire departments or teams, not at individual workers, if you want to avoid the kind of surveillance that erodes employee trust.)
It's all business: When on-site days are so packed that there's no time for social chitchat, or if the volume of online communications is so overwhelming that there's no room to waste on a little personal news, it's a sign that you haven't left any space for bonding.
People miss the pandemic: "Remember when we were all working remotely?" is a question that should ring an instant alarm. When you hear your employees waxing nostalgic for the days of full-time remote work, you know the return to the office has been less than a clear win.
Your late adopters relapse: One positive effect of Covid? Even the most steadfast late adopters—the people who refused to use Google Docs, Slack, Microsoft Teams or really anything other than email—finally had to learn to use online collaboration tools, many of which are just as useful in the office as they are when working remotely.

The hybrid workplace, in other words, isn't a free pass to go backward. Nor is it a free pass to throw out everything that worked before. It's an opportunity to take what we learned during the pandemic and build something new, something better. And the first step in that process is to be honest about what isn't working. And then fix it.
Two thirds would take a pay cut for better work-life balance, survey finds
By: Mahalia Mayne
Source: PeopleManagement
Read the full article here.
Our key takeaways for you:
Almost two thirds (56 per cent) of employees are willing to accept a lower-paid job in exchange for a better work-life balance, a study has found.
The 2023 Salary & Recruiting Trends report by Hays, which looked at data from more than 5,000 employers and 8,000-plus professionals, found that a third (33 per cent) of workers consider work-life balance to be the most crucial consideration when looking for a job.
Additionally, the report revealed that two fifths (41 per cent) of employees believe having varied working hours would make maintaining a healthy work-life balance easier.
The majority (83 per cent) of employees said their work-life balance had either improved or remained the same during the preceding 12 months. But half (50 per cent) were seeking jobs with a higher level of hybrid working, while a quarter (24 per cent) wanted fully remote positions.
The data also highlighted that two thirds (62 per cent) of employees would be tempted to change jobs if they had a say in how often they worked in the office.
Gender-specific support in the workplace is set to be a major area for growth in 2023
By: Editorial Team
Source: HR News
Read the full article here.
Our key takeaways for you:

Gender-specific support in the workplace is set to be a major area for growth in 2023 and employers need to be prepared, according to digital health app, Peppy. While inclusion and equality remain a key focus, employers need to better understand that simply offering generic health information or support isn't enough to make a meaningful improvement to the health and wellbeing of their staff or a significant difference to business outcomes.
Recruiting and retaining a specific demographic may be harder if gender-specific support is not in place, and absence rates and resignations may also increase if employees cannot resolve their health matters.
Menopause support is a great example of gender-specific workplace support, and employers who offer this type of support should be commended. However, employers should also be aware that menopause is just one of many health issues that concern women in employment and – to appeal to all female staff and those who were assigned female at birth – a broader women's health strategy is needed that encompasses other concerns such as female-biased cancers, gynaecological and reproductive health.
Men are routinely under-served by the health service: in general they have fewer touchpoints with health providers and are much less inclined to seek support for health matters. This represents a good opportunity for employers to step in and provide the necessary support. However, in order for workplace health support to appeal to men, it needs to be focused on male-specific conditions such as prostate issues, testicular cancer, heart conditions, mental health, and men's fitness, but also reinforce messages about confidentiality and accessibility.
Many early adopters that offer gender-specific support (such as for menopause), have recognised the importance of doing so and Peppy believes this trend will continue during 2023 as gender-specific support grows in both importance and uptake. Those who do not follow suit will likely find themselves an outlier in their industry and may need to rethink the way they deliver health and wellbeing support in the workplace.
How Leaders Can Support and Embrace The Untapped Potential of Neurodiverse
By: Dr. Nika White
Source: Entrepreneur
Read the full article here.
Our key takeaways for you:

An estimated 15-20% of people worldwide are neurodivergent and that could include folks in your workplace.
While neurodiversity qualifies as part of the Americans with Disabilities Act Amendments Act (ADAAA), what a neurodivergent person may need in order to feel welcomed, safe and productive at work may differ from what's available.
According to the Cleveland Clinic, "the term 'neurodivergent' describes people whose brain differences affect how their brain works. That means they have different strengths and challenges from people whose brains don't have those differences. The possible differences include medical disorders, learning disabilities and other conditions."
In a nutshell, neurodiversity is a different functioning of the brain that can affect someone's social skills, ability to focus and a host of other issues. Folks who are neurodivergent may also have: ADHD, learning disabilities, autism, tourette's syndrome and other conditions.

Here are three scenarios describing how neurodiversity may look in the workplace:
Employee #1 may be mildly autistic but doesn't show typical symptoms at work. But at home, they may be antisocial which may impact their work relationships.
Employee #2 may be neurodivergent and struggle with job interviews. However, once on the job, their skillset shines and they perform outstanding work.
Employee #3 may struggle with focusing in noisy environments, but having quiet rooms to work in can support them in producing their best work.

Each employee in these scenarios adapted differently to their environment and found their own way to thrive in the workplace. However, neurodivergent folks shouldn't have to do all of the work to adapt.
If there's a manager or someone who works side-by-side with a neurodivergent individual, make it a point to train that person on how to practice active listening and compassionate communication.
Creating physical workspaces that meet the needs of group meetings, individual working and pleasant places to rest can stimulate and calm certain individuals in the workplace. The best part is, that having different spaces will help not only neurodivergent individuals but neurotypical employees, too.
Be sure to train managers and fellow employees who work with neurodivergent people on how to be sensitive to their needs and embrace their requests without othering them. As mentioned earlier, while one change to the physical or cultural environment may benefit a particular neurodivergent person, it may also be appreciated by other employees.
A warm, inclusive and compassionate work culture can make or break a neurodivergent individual's ability to work and thrive. Sometimes having allies and success partners amongst fellow employees can be an invaluable support system to a neurodivergent person — even when leadership hasn't quite caught on yet.
Create an environment where employees and team members with physical and mental disabilities can feel supported. This can include physical spaces that smell, feel or sound a certain way. Or it can be training managers and employees on what allyship looks like for neurodivergent individuals. No matter how you do it, keep folks with mental disabilities in your DEI plans this year and beyond.
To Recruit and Retain a Strong Team, Live the Culture You Talk About
By: Cheri Beranek
Source: Entrepreneur
Read the full article here.
Our key takeaways for you:
A 2022 MIT Sloan study found that toxic work culture, including disrespect, unethical behavior or a lack of diversity, equity and inclusion in the workplace, was the driving force behind the Great Resignation.
But while a toxic culture drives people away, a positive workplace culture draws them in. Promoting team members' well-being improves relationships and amplifies individual strengths and creativity, leading to more innovation and productivity with less stress and burnout.
As leaders, if we talk about communication and expect people to follow, that communication needs to start with me. We need to be open to it, like lanes of fluid traffic in both directions, not stocked up silos hoarding information for ourselves.
We look for similar values when building personal relationships, but this idea is more difficult as a company. I may not expect everyone to share the same politics, but I expect team alignment around certain values. We should all acknowledge the importance of diversity and respect the humanity of each other. We should share a sense of optimism for the company and a desire to contribute to its growth.
Positive company culture starts at the top. I want to demonstrate to my people that the hybrid work model we've built works, and we can do much of our jobs within it, so I live that model myself. This means not spending all my time in the office and encouraging passive learning and soft skills when I am.
Early mentorship is how budding leaders create their lanes of inclusivity and collaboration and model that. It may not move as quickly through the company as top-down modeling, but evolutions and revolutions have all started from the bottom up.
So often, we talk about culture but only prioritize it when it's convenient: This is a substantial economic mistake. Leaders who can foster strong connections to their organization's culture end up with more engaged teams that attract top talent.
An inclusive culture leads to greater company cohesiveness where people want to stay and contribute towards its success. Culture is more than touchy-feely positivity: It's the cornerstone on which influential companies are run.
Managing Your Team's Emotional Dynamic
By: Amit Goldenberg
Source: Harvard Business Review
Read the full article here.
Our key takeaways for you:
Over the past few years, researchers who study emotions, have started to examine the unique features of a phenomenon called collective emotion.
Our findings suggest that the intensity of collective emotions tends to be much stronger — and last much longer — than that of isolated individuals.
This is for a couple of reasons. First, emotions help people communicate their thoughts and feelings to others, and when people get together, they tend to express stronger emotions than they would if ruminating on the issue alone. This is especially true in cases where there is an increasing sense that the emotion is not a feeling that a single individual feels, but rather something that the group feels as a unit.
Second, strong emotions are contagious, and this contagion can lead people who were not initially impacted by a situation or event to coalesce around a given emotion.
When thinking of a collective's emotions, leaders must consider how interactions between individuals impact the overall emotion of the group. Then, they must understand how to tap into the strong emotions employees are feeling and help manage them. The key to this is understanding how emotion regulation works at the collective level.
Emotion regulation involves changing the trajectory of an emotional response, and it's something we do all the time. We can both downregulate emotions (for example, by controlling our anger toward an unpleasant boss) or upregulate our emotions (for example, by increasing our excitement for a proposed idea).
The process model of emotion regulation, which was developed by psychologist James Gross from Stanford, can help leaders understand how these systems work. The idea behind this framework is that emotion and its regulation unfold over time and can be divided into four steps: a specific situation (e.g., a manager behaving aggressively), attention to the situation (an employee noticing the behavior), appraisal of the situation (the employee realizing that the behavior is offensive), and a response (the employee's actual expression of anger).
This model is a perfect framework for understanding how individuals regulate their emotions, and it has been used to examine how employees' and managers' emotion regulation can increase performance and satisfaction with work.
One well-documented situation-modification strategy that can impact collective emotion is rituals. Groups develop rituals — predefined sequences of action characterized by rigidity, formality, and repetition — in order to both increase and decrease certain emotions.
Sports teams develop pre-game rituals to reduce anxiety and intimidate the opponent. Organizations with high-stress jobs like investment companies and law firms often develop end-of-the-week rituals to help their employees decompress. Rituals were even recognized by McKinsey as a way to help employees when they returned to in-person work during the re-entry phase of Covid-19.
The second family of emotion-regulation strategies involves changing emotions by modifying where people's emotional attention is directed.
Leaders often use distraction to change collective emotion. In a classic strategy, leaders focus their group's attention on a specific rival in order to increase a sense of threat, urgency, and sometimes outrage. But distraction can also be used to reduce certain emotions. For example, leaders may shift their employees' attention away from a rival in order to regulate stress or mitigate anxiety.
The third family of emotion-regulation strategies is called reappraisal, which involves rethinking or reinterpreting a situation in a way that impacts the subsequent emotional response.
A great example of reappraisal at the group level can be seen in internet forums dedicated to stock discussions. Often, after a disappointing earnings report by a specific company, its stock crashes, leading to a strong sense of anxiety in the investor community on the forum. But the investors who hold the stock are typically motivated to calm the community by offering various interpretations of the situation in an attempt to regulate collective emotions.
For example, one user might suggest that the disappointing report is the result of a potentially profitable investment that will later yield more profits. That suggestion can then gain traction and be echoed by others on the forum. As time goes by, more users adopt this interpretation, which contributes to a strong reduction in the anxiety expressed within the forum.
The last family of emotion-regulation strategies is called response modulation. This involves controlling the outward expression of one's own emotional experience to impact others' emotions.
Consider one of the most famous experiments in developmental psychology, the visual cliff. In this experiment, a child is asked to cross what seems like a cliff by crawling on a perfectly safe but scary glass floor. The child's caretaker is waiting on the other side. Research suggests that the facial expression of the caretaker plays a tremendous role in helping the child navigate this task and overcome their fear and uncertainty.
Which strategy is the best for leaders trying to better regulate the collective emotions of their team? This answer depends on the situation and the group, as each strategy has its own advantages and disadvantages.
Sometimes, the best solution is to use multiple strategies. For example, the CEO who was sent to reduce the employee outrage may do a few things at the same time. They can point out some of benefits of the situation, like that it prompted them to visit the region and hear directly from the employees. They can suggest an alternative narrative if it's appropriate and true, such as explaining that the regional manager is just learning the ropes. They may point employees' attention to some other positive aspect of the company, or devise a process for employees to express their frustration on a regular basis to air out some of the emotions.
Mental Health In The Workplace: Predicted Trends For 2023
By: Jess Cording
Source: Forbes
Read the full article here.
Our key takeaways for you:

As we get into 2023, mental health in the workplace continues to be a major focus. Over the past few years, more employers have realized they need to protect employee's mental health and wellbeing and make these efforts a part of companies' attraction and retention programs.
Mental Health Will Be Front And Center. Rates of burnout, anxiety and depression are at record levels. In addition to pushing employers to offer generous employee benefits packages, companies will also be forced to rethink how they can create a supportive work environment.
Hybrid Work Isn't Going Anywhere. In a tight labor market where they want to attract and retain talent, employers will be expected to respond to employees' demands for flexibility in their work schedule, including the ability to work from home.

However, downsides of working from home are that employees might feel more alone and disconnected from their coworkers and like they don't have any support. Furthermore, some people may struggle to draw clear lines between work and home life, which can lead to burnout and work-life imbalance.

More Companies Will Embrace A Four-Day Work Week. It's expected that in 2023, employees will also demand more control over when they work. This could prompt more companies to introduce a four-day work week in order to remain competitive.
9 Trends That Will Shape Work in 2023 and Beyond
By: Jason Romanosky
Source: The HR Director
Read the full article here.
Our key takeaways for you:

In 2023, organizations will continue to face significant challenges: a competitive talent landscape, an exhausted workforce, and pressure to control costs amid a looming economic downturn. How employers respond could determine whether they are an employer of choice. Here are the nine workplace predictions, based on Gartner research, that highlight the aspects of work that leaders must prioritize over the next 12 months.
Employers will "quiet hire" in-demand talent. In 2023, savvy organizations will turn this practice on its head and embrace "quiet hiring" as a way to acquire new skills and capabilities without adding new full-time employees.

This will manifest as:  Encouraging internal talent mobility by deploying employees to the areas where the organization most needs them. To compensate people for their evolving roles, organizations can offer a one-time bonus, raise, additional paid time off, a promotion, greater flexibility, and more. Providing specific upskilling opportunities to help employees to meet evolving organizational needs. Leveraging alternate methods, such as alumni networks and gig workers, to bring in workers with specific skills for high-priority tasks when new headcount is not an option.

Hybrid flexibility will reach the front lines. As we enter a more permanent era of hybrid work for desk-based employees, it's time to find equitable flexibility for frontline workers, like those in manufacturing and health care. According to a 2022 Gartner survey of 405 frontline worker managers, 58% of organizations that employ frontline workers have invested in improving their employee experience in the past year; about one-third of those who haven't said they intend to do so in the next 12 months.
Managers will find themselves sandwiched between leader and employee expectations. Sixty percent of hybrid employees say their manager is their most direct connection to company culture. But people managers are struggling to balance their employee expectations of purpose, flexibility, and career opportunities with performance pressure from senior leaders.
Pursuit of nontraditional candidates will expand talent pipelines. For years, organizations have talked about the strategic value of expanding and diversifying their talent pipelines. With more employees charting nonlinear career paths and organizations having trouble meeting their talent needs through traditional sourcing methods, now is the time to act.

To fill critical roles in 2023, organizations will need to become more comfortable assessing candidates solely on the skills needed to perform in the role, rather than their credentials and prior experience. Organizations will do this by removing formal education and experience requirements from job postings and instead reaching out directly to internal or external candidates from nontraditional backgrounds who may not have access to certain professional opportunities, or even be aware of them.

Healing pandemic trauma will open path to sustainable performance. As the immediate Covid-19 threat recedes, our collective adrenaline is wearing off, leaving employees to contend with long-term physical and emotional impacts. Employees' stress and worry in 2022 grew above even 2020 peaks — nearly 60% of employees report they are stressed at their jobs every day. The societal, economic, and political turbulence of the last few years is manifesting as decreased productivity and performance, no-notice quitting and workplace conflict.In 2023, leading organizations will support employees by providing:

Proactive rest to help employees maintain their emotional resilience and performance, as opposed to offering rest as a recovery solution after both have plummeted. This may include proactive PTO before high-demand working periods, no-meeting Fridays, allotted wellness time, and including team PTO in managers' goals.
Discussion opportunities to work through challenges and difficult topics without judgment or consequences.
Trauma counselors to train and coach managers on workplace conflict as well as how to have difficult conversations with employees.

Organizations will drive DEI forward amid growing pushback. Our research found 42% of employees believe their organization's DEI efforts are divisive.

To address this fraught moment and maintain DEI momentum, HR must equip managers with tools and strategies to engage resistant employees and address pushback early before it evolves into more disruptive forms of DEI resistance. This could include:
Creating group-specific safe spaces based on key employee demographic characteristics (e.g., gender, race/ethnicity) to proactively surface problems.
Tailoring communications and incentives to motivate allyship, for example, by recognizing and giving visibility to allies on internal platforms and company websites.
Upskilling employees with definitive "how-to" guidance that enables allyship by showing employees how, specifically, they can advance DEI goals via the actions they take in their professional capacities.

Getting personal with employee support will create new data risks. In 2023, leading organizations will create an employee data bill of rights to support employees' need for healthy boundaries in addition to overall well-being. HR leaders should ensure they prioritize transparency around how the organization collects, uses and stores employee data, and allow employees to opt out of practices they find objectionable.
Concerns around AI bias will lead to more transparency in recruiting tech. As more organizations leverage AI in recruiting, the ethical implications of these practices have become more urgent. In 2023, we expect this issue to come to a head, particularly as governments begin scrutinizing the use of AI in hiring. For example, a new law in New York City went into effect on January 1 that limits employers' use of AI recruiting tools and requires organizations to undergo annual bias audits and publicly disclose their hiring metrics.
Organizations must address workforce-wide erosion of social skills. Many new-to-the-workforce employees are struggling: 51% of Gen Z employees say that their education has not prepared them to enter the workforce. And the pandemic means that these employees have had few in-person opportunities to observe norms and determine what is appropriate or effective within their organizations.

Burnout, exhaustion, and career insecurity erode performance. No one, from any generation, has cracked the code for navigating our new shared professional environment. Focusing exclusively on Gen Z will not adequately address this challenge; organizations must redefine professionalism for their entire workforce.
 Rather than forcing employees back to in-person work to establish connections, leaders need to build intentional connections among employees across geographic — and generational — boundaries. Gartner research shows that to successfully create intentional interactions among employees, employers should focus on three elements: employee choice and autonomy, a clear structure and purpose, and a sense of levity and fun.
A 2022 Gartner survey of nearly 3,500 employees found that when organizations help employees build connections intentionally, their employees are five times as likely to be on a high-performing team and 12 times as likely to feel connected to their colleagues.
How to Stop Worrying About What Other People Think of You
By: Michael Gervais
Source: Harvard Business Review
Read the full article here
Our key takeaways for you:
If you want to be your best and perform at a high level, fear of people's opinions may be holding you back.

Think about a time when you were extremely anxious — say, before standing up to publicly speak, raising your hand in a big meeting, or even walking through a room of strangers. The reason you felt small and scared and tense is you were worried about social disapproval.

If you start paying less and less attention to what makes you you — your talents, beliefs, and values — and start conforming to what others may or may not think, you'll harm your potential.

A craving for social approval made our ancestors cautious and savvy; thousands of years ago, if the responsibility for the failed hunt fell on your shoulders, your place in the tribe could be threatened. The desire to fit in and the paralyzing fear of being disliked undermine our ability to pursue the lives we want to create.

Once you're aware of your thoughts, guide yourself toward confidence-building statements (I am a good public speaker, I've put in the work so that I can trust my abilities, I have a lot of great things to say, I'm completely prepared for this promotion).

These statements will help you focus on your skills and abilities rather than others' opinions. Take deep breaths, too. This will signal to your brain that you're not in immediate danger.

Most of us go through life with a general sense of who we are, and, in a lot of circumstances, that's enough. We get by. But if you want to be your best while being less fearful of people's opinions, you need to develop a stronger and much deeper sense of who you are.

You can start by developing a personal philosophy — a word or phrase that expresses your basic beliefs and values.

When coming up with a personal philosophy, ask yourself a series of questions:

When I'm at my best, what beliefs lie just beneath the surface of my thoughts and actions? Who are people that demonstrate characteristics and qualities that are in alignment with mine? What are those qualities? What are your favorite quotes? Your favorite words?

Once you've answered these questions, circle the words that stand out to you and cross out the ones that don't. After studying what's left, try to come up with a phrase or sentence that lines up with exactly who you are and how you want to live your life. Share the draft with a loved one, ask for input, and fine-tune your philosophy from there. Then commit it to memory and return to it daily.

I can't overstate how important a personal philosophy is. Working with NFL players and coaches, extreme-sport athletes, and senior leaders at Fortune 50 companies, I've noticed that, beyond a relentless pursuit of being their best, what makes these high performers great is their clear sense of the principles that guide them.

Because of their clarity, they're more willing to push themselves, learn more, and embrace discomfort. They can shut out the noise and opinions of fans and media and listen to their own well-calibrated, internal compass.

Moving forward, solicit feedback from a short list of people who matter to you. Honest reflection is a vital component of mastery.

Hold their views in high regard, letting the noise from the crowd fade away. Calibrate their feedback with your experience.

Most of all, remember that growth and learning take place when you're operating at the edge of your capacity. Like blowing up a nearly inflated balloon, living in accordance with your personal philosophy will require more effort and power, but, the result, which is to authentically and artistically express who you are, will push you to live and work with more purpose and meaning.
The Right Not to Be Fun at Work
By: Lauren Collins
Source: The New Yorker
Read the full article here.
Our key takeaways for you:
I have a friend who works for a company that requires her to share a hotel room with a colleague when she travels on business. This is bad under any circumstances. It is especially bad if you're sick, pregnant, congested, flatulent, somnambulant; if you're a night owl or an early bird; if you have a medical condition necessitating privacy; or if you just prefer to spend your precious downtime bingeing "Love Is Blind" in a judgment-free zone. Being forced to see a co-worker in a towel or listen to her snore ought to be illegal.

Thankfully, there's France, home of the right to ignore your e-mail on the weekend and the right not to eat at your desk. In another win for workplace dignity, one of the nation's highest courts recently suggested that businesses cannot force their employees to participate in office parties and other supposedly enjoyable activities.

The case dates back to 2015, when a man, known as Monsieur T., sued his former employer, the Paris-based management-consulting firm Cubik Partners, for wrongful termination.

Monsieur T.'s demand for reinstatement was dismissed in labor court. An appeals court then found that Cubik had not erred in letting him go for, among other things, failing to take part in a workplace culture that the company calls, in a bit of corporate Franglish, "fun & pro."

In its recent decision, however, the high court overturned that ruling. Citing the European Convention on Human Rights and the French labor code, the court held that Monsieur T. had no obligation to attend retreats and Friday apéros. In fact, his bosses' expectation that he join in violated his freedom of expression. Call it, as Arte did, "the right not to be fun."

Monsieur T. joined Cubik Partners in 2011, as a senior consultant, and was promoted to director before being fired, in March of 2015. According to a lower court, a dismissal letter criticized his tepid attitude toward the company's "fun & pro" ethos along with other failings.

According to its Web site, Cubik is "a deeply human organization" that "seeks personalities before skills." A section for prospective hires reveals that you don't just work at Cubik, you "Be Cubik."

Cubik boasts, "Because we are proud of our culture, we have many rituals for getting together." These include an annual corporate retreat just before the summer holidays, "to celebrate the past season and take a step back from working."

In his lawsuit, Monsieur T. remembered such bonding experiences rather differently. The biggest problem, his lawyer, Isabelle Galy, told me, was that the company culture involved a lot of drinking. "There was a strong incentive and even obligation to consume alcohol," Galy said. Monsieur T. alleges that he was subjected to "humiliating and intrusive practices such as the simulation of sexual acts, the obligation to share a bed with a colleague during seminars, the usage of nicknames and the posting in the office of deformed and doctored photographs."

Through a lawyer, Cubik Partners denied these allegations and said that Monsieur T. had been fired for "professional incompetence," not because he refused to take part in "a so-called apéro culture."

The lawyer also specified that the firm's "fun & pro" values mainly referred to its type of management based on feedback and its work in small teams. The high court referred the case back to an appeals court and it is ongoing.

Clearly, fun is a highly subjective concept, but plenty of experts have argued for its inclusion in the workplace.

In "Fun at Work: How to Boost Creativity, Unleash Innovation, and Reinvent the Future of Work Using the Transformative Power of Play" (2022), David Thomas, the book's co-author and "a scholar of fun" at the University of Denver, argues that "learning to goof around" can make employees more satisfied in their work and more supple in solving problems. Over e-mail the other day, he warned, however, that ludic activities should be strictly voluntary. Taste plays a key role in distinguishing between amusement and annoyance.

Work fun is fine, but it is a poor substitute for the attributes that make a workplace truly attractive: job stability, proper benefits, equal pay, prospects for advancement, flexibility, a respectful and well-resourced environment.

Nobody wants a field trip at the expense of a generous vacation allowance—and, as I've written, women disproportionately bear the costs of having to attend social events outside of working hours.

Plenty of people these days don't even want to come into the office to work, much less to play. For some employees, though, one of the attractive points of office work is its calm and quiet atmosphere, serving as an orderly counterpoint to the chaos of personal life.

Next time a Twister board shows up in the break room, think of Monsieur T. and continue silently washing your mug.
Three ways to boost the happiness of your learners (and why it's important to)
By: Dr. Amanda Nimon-Peters
Source: Training Zone
Read the full article here
Our key takeaways for you:
The January blues are well and truly here, but why does this matter for L&D professionals? Studies have shown that learners with a positive outlook retain more information, so ensuring that your training session starts on an upbeat note will make an impact, especially in these dull winter months.

A while ago, my colleagues and I ran an experiment designed to examine the impact of teaching style on participant learning and recall. A large cohort of master's degree students, coming from over 30 different home countries, were split into two groups for a class covering two subjects.

Group A was taught subject 1 in a dynamic, high-energy manner, with the instructor demonstrating a passion for the subject and engaging students in an interactive simulation. Group A was then taught subject 2 in a low-energy manner, with the instructor simply presenting slides and exhibiting neutral body language.

In comparison, group B was taught the same two subjects in the same order, but the teaching styles were reversed: subject 1 was taught in the low-energy manner, and subject 2 was taught in the interactive, high-energy manner. Each group's emotional state was assessed at the end of subject 1, then again at the end of subject 2. Two days later, students were given an unannounced test of each subject.

We expected to find that the high-energy style would be associated both with more positive emotions and with improved performance on the test. Thus, we expected that group A would score better on these measures for subject 1, and group B would score better on these measures for subject 2.

We were wrong. Instead, we found that group A scored significantly higher on positivity than group B, regardless of subject matter or teaching style. Moreover, group A's test scores indicated significantly better learning and recall of both subjects than students in group B, to a high degree of statistical certainty.

While our results align with those of many other studies showing that a positive emotional state enhances learning and recall, we were surprised by the resilience of students' positive emotional state once it had been created, and the difficulty of reversing the less positive state, once that had been created.

Perhaps even more thought-provoking is the question of whether or not an apparently insignificant change of expectations caused the more negative mood of group B.

For logistical reasons, group B was asked to wait 30 minutes later than expected in order to start their class. In contrast, group A began class at the advertised time. Both groups had been informed in advance that they were taking part in an experiment, so any uncertainty created by that condition should have been equal between them.

For group B, either the simple act of being made to wait 30 minutes, or the low-energy teaching style at the start of class, or a combination of these factors, created a more negative mood that then persisted for the full three hours of the class, repressed learning and recall in both subjects, and remained unaffected by a sudden increase in teaching energy halfway through the class.

Almost any course or classroom contains people who are anxious about how their performance compares to those around them, and anxieties may be exacerbated by the need to wear masks, or a sense of exclusion if participants restricted to online participation witness other participants who are physically together. Such negative emotions have the propensity to impair learning and retention. This means that the emotional state of participants is a consideration that teachers and trainers should take seriously at this uncertain time, more than ever.

There are a few preparation steps you can take ahead of training delivery to improve the positive emotions of learners:

Consider how you can maximise positive feelings during the first 30 to 60 minutes of the course:

When positive emotions are created at the outset, they tend to endure. Many trainers use the start of a course to draw attention to housekeeping rules, which is a dull way to begin. You can review the rules after the first break. Instead, plan to open with insights and exercises that will engage your audience.

Design a brief pre-work exercise that will enable you to engage participants at the outset, actively bringing them into the session and into your team:

Examples include asking participants to submit in advance their answers to three questions, for example, one unique feature about you that you are willing to share; one main objective for the course; one piece of music you would bring with you to a desert island.

Become thoroughly acquainted with the technology that will facilitate online learning:

This means that you can avoid having to disadvantage one group of participants over another. For example, avoid having to tell participants 'I'll have to get to the online crowd later', which can result in an online group perceiving themselves as a lower priority.