26th January 2018
Winners of the 2017 UK & European Employee Engagement Awards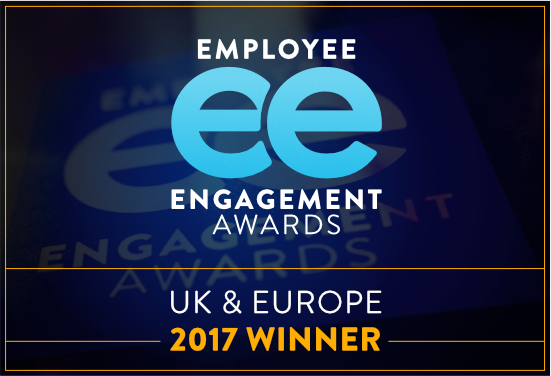 Southanpton FC, Homeserve, RBS, the Post Office and GSK among the winners of the
2017 UK & European Employee Engagement Awards in association with People Insight
In a first for the Employee Engagement Awards, in association with People Insight, two companies were awarded Company of the Year. Homeserve and Southampton Football Club shared the blue ribbon award which was presented at the gala ceremony at Wembley Stadium last night.
The Employee Engagement Awards honours those organisations that put workforce engagement at the heart of their business strategy. This year's winners demonstrate how far-reaching Employee Engagement is today. They span manufacturing, banking, IT, pharmaceuticals, retail, the NHS, service companies, transport and the sporting world.
Founder and CEO Matt Manners said:  "Congratulations to all our winners. This year the entries really have proven the transformational value that focusing on the employee experience can deliver. Not only do engaged employees help develop a clear competitive advantage but will also help their organisations to navigate a world facing continuous change.
Tom Debenham, MD of People Insight, said: "The quality of entries has again been astounding, showing a shift towards employee engagement as business as usual. Organisations have developed strong internal capability. Instead of looking for single magic bullets, they are taking fully integrated approaches that start before recruitment and extend through the employee journey. When you see the employee experience being led from the C-suite as we increasingly do, you know it's serious stuff."
The winners were announced at a sold-out ceremony at the iconic Wembley Stadium on January 25, 2018. Photos and interviews with winners can be found at https://uk.ee-awards.com/engagement-zone/
Organisations that want to learn from the winners can do so at a one-day conference in London on March 1, 2018. Winners, Highly Commended organisations and finalists from a wide range of businesses and sectors will be presenting their case studies. The conference will provide practical advice to help engagement professionals achieve better employee engagement results. You can register by visiting https://uk.ee-awards.com/conference/
The EE Awards is also returning for its fourth year to the United States with entries open from February 2, 2018. The conference and awards will be hosted in Chicago on June 7, 2018.
The full list of  2017 UK winners  is as follows:
The Employee Engagement Company of the Year Award

Winners – Homeserve & Southampton Football Club
Highly Commended – IG Design Group

People Insight Enterprise Award

Winner – The Royal Bank of Scotland Group
Highly Commended – Marks and Spencer, Boehringer Ingelheim

SMB Award

Winner – Lawn Tennis Association
Highly Commended – Involvement Packaging

Wellbeing Award

Winner – NHS Business Services Authority
Highly Commended – The Royal Bank of Scotland Group

Reward & Recognition Award

Winner – NIIT Technologies
Highly Commended – Plusnet, Tata Consultancy Services

Inclusion & Diversity Award

Winner – Post Office Ltd
Highly Commended – FanDuel

Unsung Hero Award

Winner – Mike Boyle – First Bus
Highly Commended – Shona Sullivan – Capita

Employer Brand Award

Winner – Arrow Business Communications
Highly Commended – Southampton Football Club

Internal Communications Award

Winner – Involvement Packaging
Highly Commended – Centrica, Inspired Thinking Group

Social Responsibility Award

Winner – GSK
Highly Commended – RB

Leadership Award

Winner – Time Inc.
Highly Commended – PPL

Non-Profit/Charity Award

Winner – livin
Highly Commended – Cancer Research UK

Public Sector Award

Winner – University of Lincoln
Highly Commended – Ministry of Justice

Customer Engagement Award

Winner – Fitness First
Highly Commended – PPL

Best Use of Technology Award

Winner – Nissan
Highly Commended – Marks and Spencer

Consultancy of the Year Award

Winner – H&H
Highly Commended – Dragonfish, Instinctif Partners

Vendor of the Year Award

Winner – Benefex
Highly Commended – Peakon, LifeWorks
Exclusive Media Partner
HR Grapevine is the exclusive media partner in UK & Ireland.
Deadline for entries looms in Africa
The inaugural awards across the continent of Africa are now open for entries with the deadline February 14, 2018. For more information visit here – https://africa.ee-awards.com/
2018 Sponsorship in Europe, North America & ANZ
Opportunities are available for companies to sponsor the 2018 conference on March 1, as well as our, awards and conferences in Chicago and Sydney. For more information please contact [email protected]
The Employee Engagement Awards (EE Awards) is the first and only global, Awards & conference business dedicated to Employee Engagement. We believe in inspiring and educating people to remake the way organisations think about, and engage, people to achieve their Purpose.
That's why we created, and continue to develop, the Employee Engagement Awards; to provide a platform to recognise excellence in engagement that inspires action and drives the industry and the employee experience forward.
Entering and hopefully winning, The EE Awards provides the industry acknowledgement and competitive advantage needed to attract the best talent.
About People Insight
People Insight is a specialist employee engagement and culture consultancy that help HR leaders make people decisions so that their organisations thrive.
We deliver people surveys, HR analytics and consultancy support. We help our clients understand what's happening with employee engagement, wellbeing and culture, so they can make the right people decisions for real business benefit. What's more, we provide hands-on support to make the changes that will drive results.
For more information on The Employee Engagement Awards, contact:
Matt Manners
+44 (0)203 3711 877
+44 (0) 7799876473
[email protected]
www.ee-awards.com
#ee_awards
LinkedIn Group: The Employee Engagement Awards