16th February 2021
Stories from an Inspiring Leader – Rob Gialloreto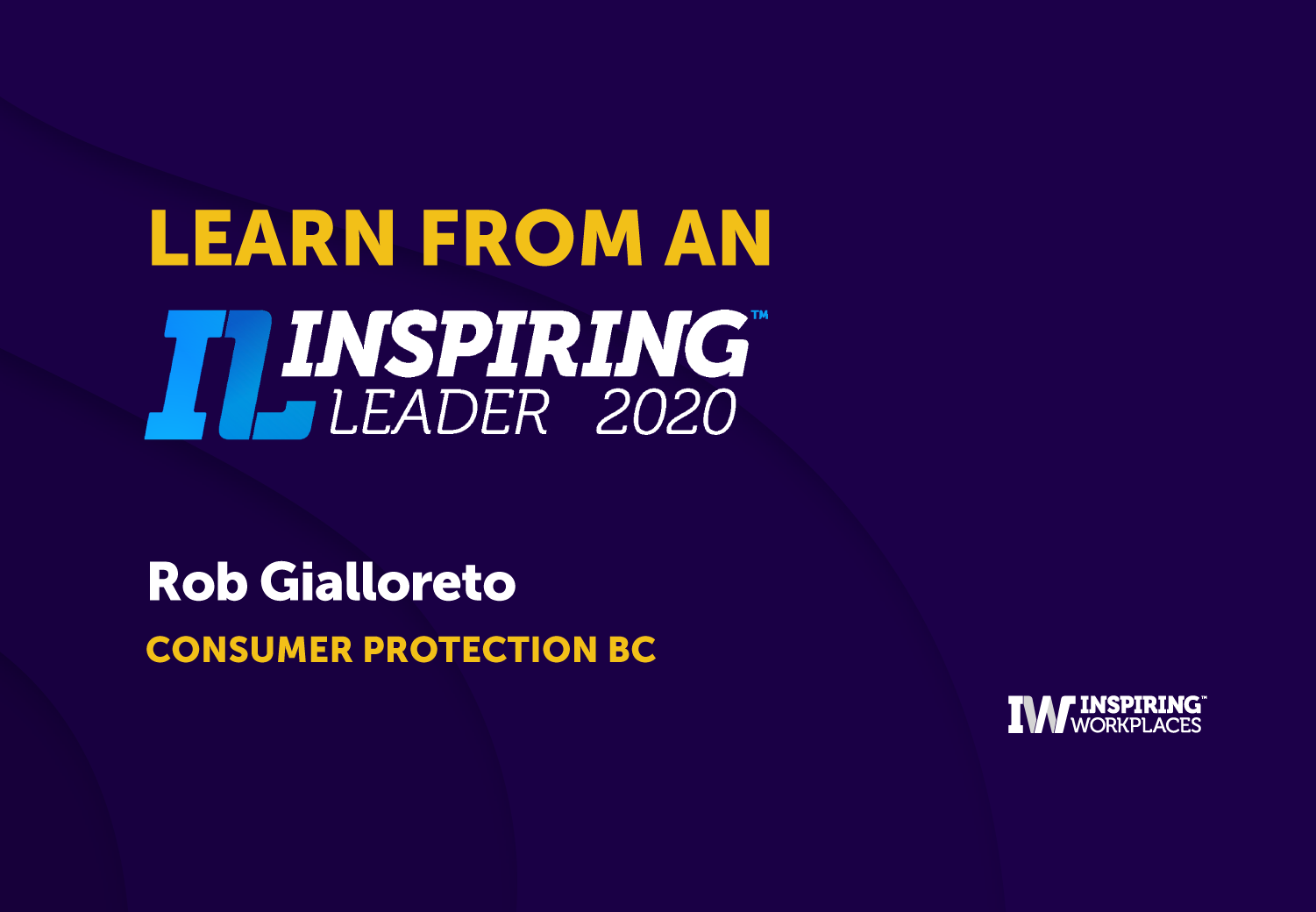 Rob Gialloreto, President & CEO, Consumer Protection BC
Rob's leadership style has always been characterized as one of humanity, leading organizations with an approach described as values-first, open and humble. And the importance of leading in this manner has never been more important than now, a time rife with economic upheaval and employee uncertainty.
A new challenge for Rob in 2020 was how to foster genuine human connections and communication between employees and himself while working in a virtual environment.
Rob needed to find new ways for this communication and connection to continue despite the separation of employees. The following outlines some of the ways Rob has championed communication through leadership during the pandemic. Within days of moving to a remote workforce, Rob saw that a new social networking platform was launched for staff to engage with one another. And, in a true agile style, the site was headed by a two-person team with the skills and interest to manage the site (and not, as one might expect, members of a communications or human resources department). The site has been well-received by staff, and highlights of the daily posts include a leadership team lip sync video, coffee break games via videoconferencing, staff profiles, birthday and work anniversary celebrations, contests and more. Since March 2020, nearly 3,000 messages have been posted on the site, more than 45,300 messages read and some 6,713 messages liked. Rob also holds regular all-staff town hall meetings over video conferencing; attends monthly department meetings and invites employees to ask questions; shares weekly email updates; conducts regular 'pulse check' and annual engagement surveys; sends out care packages to employees with personalized messages; maintains an 'open door' policy for employees to have formal or casual chats at anytime; and emphasizes available resources to support physical and mental wellbeing (such as employee assistance programs).
Through the 2020 Employee Engagement Survey (issued in August 2020), 97% of employees said they feel Rob communicates honestly.
Endorsement
"To me, the best leaders don't try to be inspiring. They make an impact by being authentic, caring, transparent and forward-thinking. They see opportunities even in a crisis, assess risk and trust their team to help guide decisions. This is Rob Gialloreto. His approach during the pandemic is the epitome of everything that he is, not just as our CEO, but as leader. With no playbook for these di cult times, Rob has lead our organization with compassion and a focus on people. From being one of the first CEOs to decide that all staff work from home, to sending care packages to everyone, to CEO video updates that were either humorous or offered a sense of security and comfort to allay fears. There has never been a time where our teams didn't feel that we were all in this together. That is a powerful thing […] under Rob's leadership during the pandemic, I believe that, now, we are even better."
About Inspiring Leaders
The extract above is taken from the Inspiring Leaders 2020 initiative which recognised exceptional leaders during the Covid-19 pandemic. You can download the full eBook with all the leader stories here.
Inspiring Leaders was created as a vehicle to recognize people who stepped up to help individuals, teams and organizations navigate personal and business challenges, and make a contribution to make their business, their community and the world a better place.
Due to the success of IL 2020, we have brought it back in 2021. We are now open for nominations. For more information about how to enter Inspiring Leaders, dates and fees – click here.