16th February 2021
Stories from an Inspiring Leader – Alistair Craig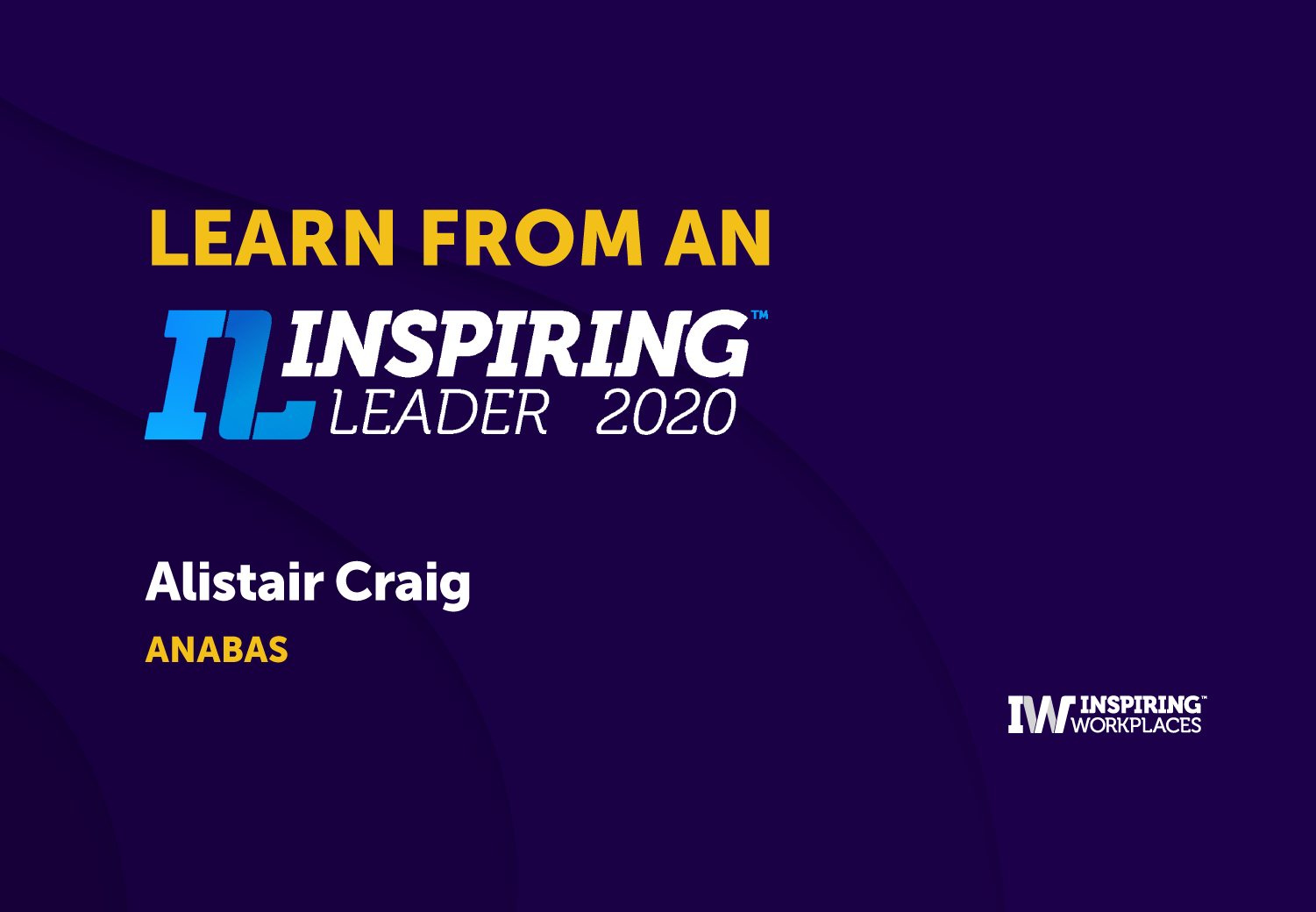 Alistair Craig, Managing director, Anabas
The past months have been a particularly difficult time for everyone. Many organisations have had to manage serious cutbacks and furloughed all but key members of staff. But Alistair has continued to go against the grain. He's invested heavily in his people during the pandemic, both through the Employee Assistance Programme and, most recently, through Anabas' Art of Brilliance programme. Soft skills are often the first victim of financial constraints. But Alistair is determined to put staff first, understanding that now is an incredibly challenging time and that building resilience and positivity is fundamental to recovery.
During the lockdown period, he asked Anabas's Learning and Development Manager to refocus her role on the wellbeing of Anabas staff. For those team members who were furloughed, Alistair ensured they still felt part of the Anabas family. The Learning and Development Manager remained in regular contact with furloughed team members to support them through the period including organising virtual social events for furloughed and working staff to maintain the sense of team. He personally supported account directors in all client meetings in the first few months of the pandemic to ensure that both they, and the clients, felt supported as buildings were closed down, operated on a skeleton staff or with complex new systems and processes. He has led workshops and roundtable debates with clients to share best practice and ideas on the return to work. Leaders show their true selves in difficult times. Alistair continues to demonstrate through quiet, courageous actions that we must never forget our ideals, even in these unprecedented times. Doing the right thing might sometimes go against accepted business practice but it's worthwhile when staff wellbeing and company culture are the reward.
Endorsement
"[Alistair's] choices and priorities throughout the pandemic have continually demonstrated that he has the wellbeing of Anabas and its people as his priority. Everyone at the company trusts that when he has a difficult decision to make, it will be driven by this care. […] Times are tough but at no point have I seen him waver, he has remained positive and calm. By getting involved in exercise challenges with his employees, launching an employee assistance program and holding weekly video calls with Anabas staff , his motivation and support during this difficult time has been truly admirable."
About Inspiring Leaders
The extract above is taken from the Inspiring Leaders 2020 initiative which recognised exceptional leaders during the Covid-19 pandemic. You can download the full eBook with all the leader stories here.
Inspiring Leaders was created as a vehicle to recognize people who stepped up to help individuals, teams and organizations navigate personal and business challenges, and make a contribution to make their business, their community and the world a better place.
Due to the success of IL 2020, we have brought it back in 2021. We are now open for nominations. For more information about how to enter Inspiring Leaders, dates and fees – click here.