27th April 2023
On Demand Video: Power Hour 2 – Peoplefirst – A holistic look at driving your wellbeing strategy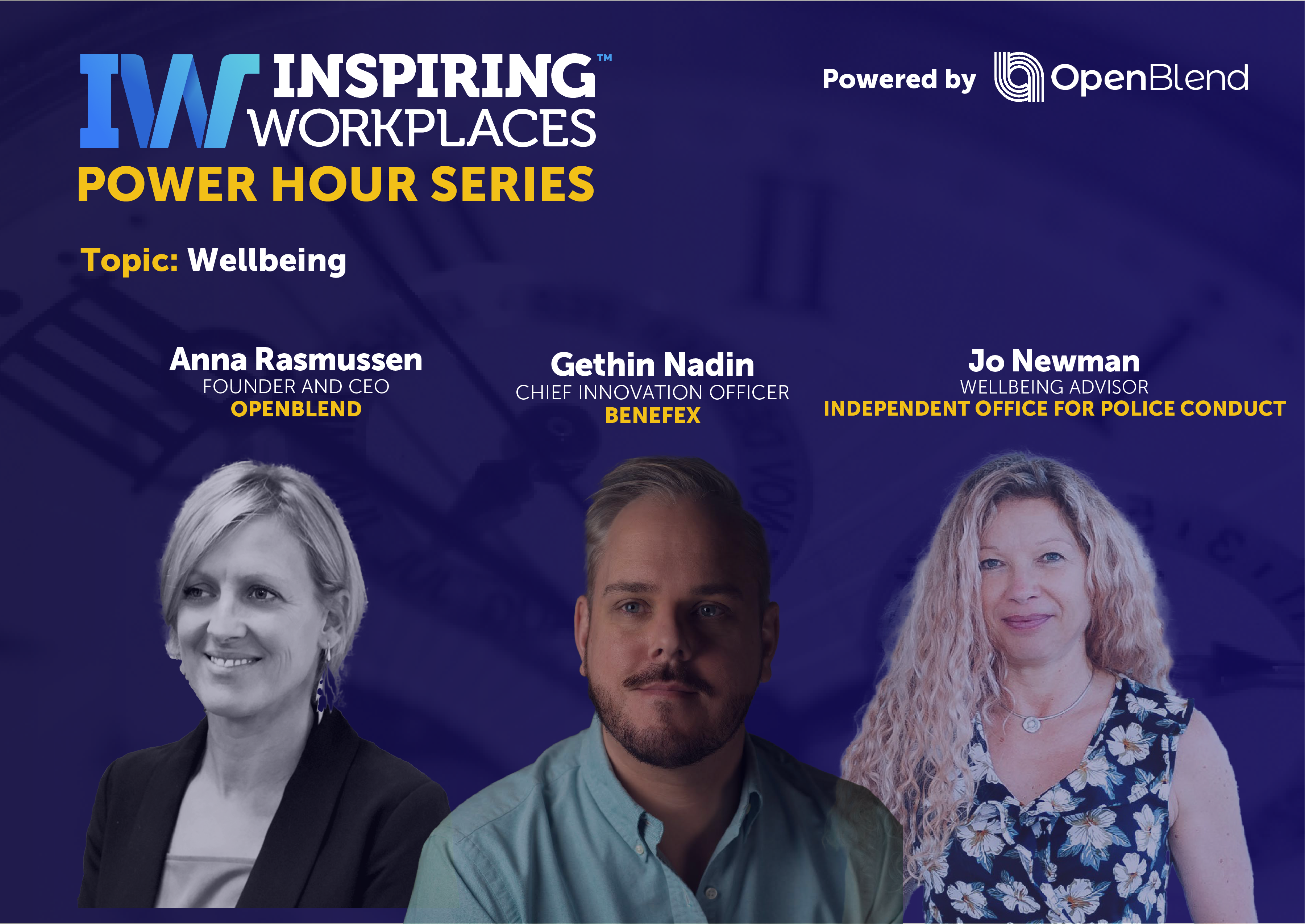 To view the full on-demand video, you need to be logged in as Inspirer. Once logged in, the video will appear at the bottom of the page.
This session was part of The Inspiring Workplaces Power hour series. A 7 part series of themed online sessions delivering key insights, inspiration, advice and knowledge from industry experts. 1 hour long virtual sessions to inject energy into your day.
By putting people first, organizations attract and retain top talent, increase productivity, and foster a positive workplace culture. Ultimately, people-first policies benefit both the employees and the organization and result in better business outcomes and a more satisfied workforce.
Attendees heard:
How to be proactive in supporting employee wellbeing

Key frameworks to give managers to help support their teams
The journey to a measurable and competitive wellbeing experience

An overview of  how to approach a wellbeing strategy from scratch and some lessons learnt from practice

The role of AI in workplace wellbeing
and more!
Speakers
Gethin Nadin
Chief Innovation Officer
Benefex
Gethin is an award-winning psychologist who has been helping some of the world's largest organisations to improve their employee experience and wellbeing for more than two decades.
As a frequent writer and speaker on employee experience and employee wellbeing, Gethin has been featured in Forbes, The Guardian, The Huffington Post and The Financial Times as well as all major HR, Reward and Pensions publications. Gethin has been names as one of the world's top Global Employee Experience Influencers in 2021 and 2022, an IW Inspiring Leader 2021 and a finalist for UK Mental Health Campaigner of the Year 2023. Gethin is also a regular keynote speaker, Ex-Chair of the UK Government-backed Engage for Success Wellbeing Thought Action Group, a Wellbeing Advisor to Investors In People, a member of the All-Party Parliamentary Committee on the Future of Employability and a Fellow at the RSA.
Anna Rasmussen
CEO & Founder
OpenBlend
As a former executive leadership coach, Anna is extremely passionate about helping others to reach their full potential through regular, meaningful performance conversations.
Jo Newman
Wellbeing Advisor
Independent Office for Police Conduct
A Wellbeing Warrioress.
In March 2022 Jo won the 'Breaking the Silence' category at the 2021 Great British Workplace Wellbeing Awards.
Jo passionately believes that a workforce that feels valued, cared for and respected is a more loyal, engaged, productive and happy one.