07th August 2020
On Demand Video: Building an Inclusive and Conscious Culture Through Leadership Engagement | Alex Allen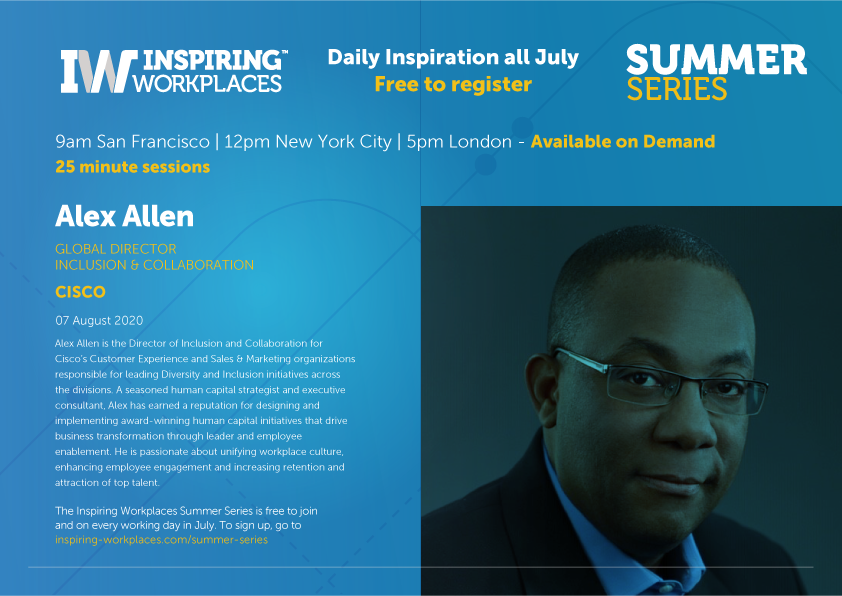 For the final talk of our month-long Summer Series: 25 minute daily talks all throughout July, we had a session with Alex Allen, Global Director Inclusion & Collaboration at Cisco CX and Sales & Marketing.
Building an Inclusive and Conscious Culture Through Leadership Engagement
Looking ahead, as the business world contemplates the compounding effects of racial injustice, pandemic, and economic depression, HR leaders have a seminal opportunity to lead their organizations into the future through progressive actions and programs. In this 30-minute session, attendees gained insight into how to answer the question, "What can I do?" as a leader to inspire action and bring a full spectrum of people together to harness the power of diversity in your organization.
Alex also answered questions such as:
How do you know when you've reached an inclusive culture
How do you manage the fine line of having BIPOC/Underserved teammates educate you in an authentic way
How do you