30th September 2022
Meet Inspirathon speaker – Karl Treacher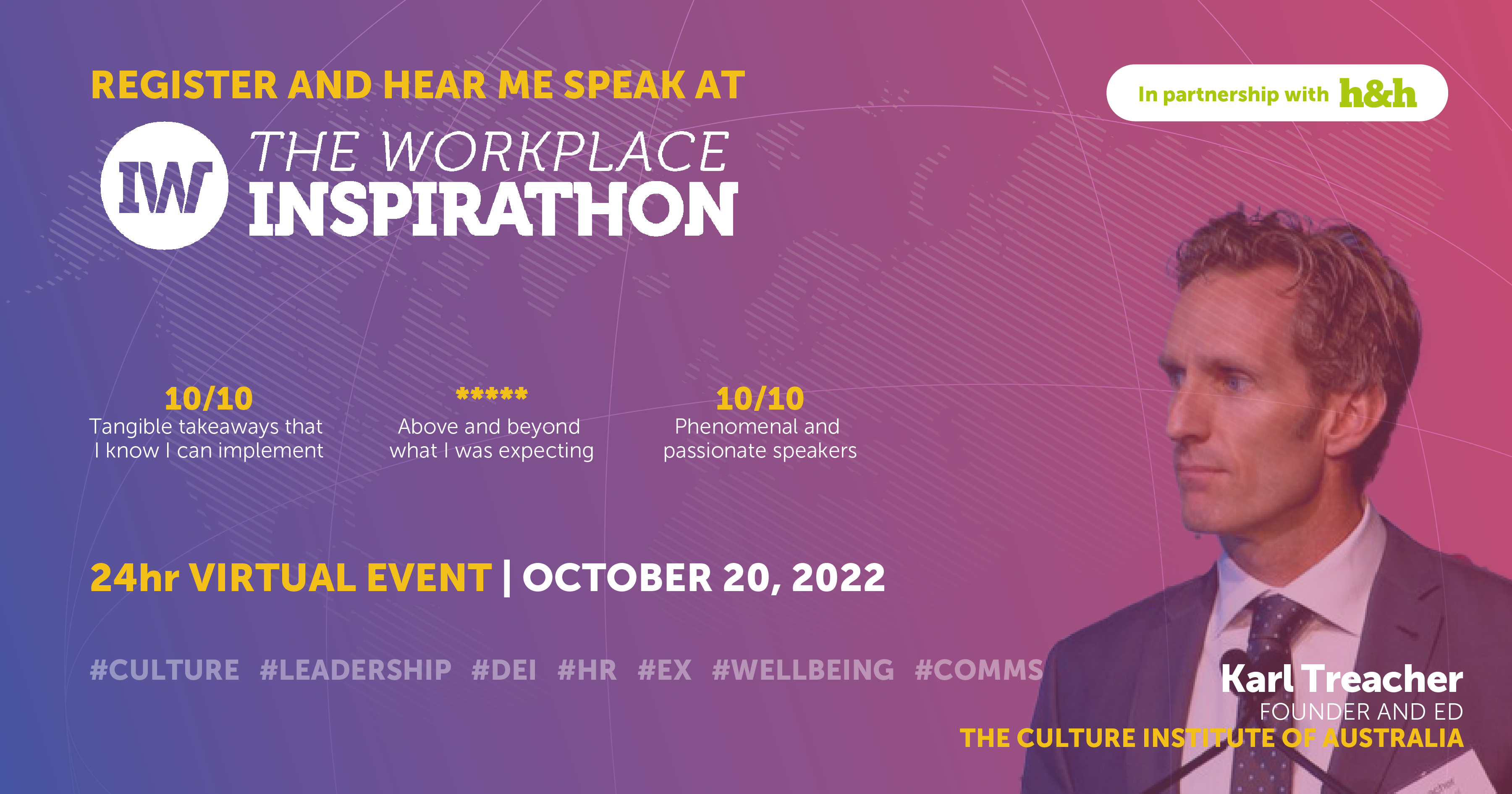 Meet the Inspirathon 2022 speaker, Karl Treacher. Sign up free for the Inspirathon
Karl Treacher (GAICD) is an Associate Professor of Social Science at Griffith Business School and the CEO of The Brand Institute Group (The Brand Institute / HEDx / The Culture Institute of Australia). With over 20 years experience working in 12 countries, delivering strategic advice to tier-one brands, boards and business leaders, Karl specialises in organisational reputation, brand, culture and experience alignment. Karl's specialisation in brand and culture alignment has led to 60 published articles along with speaking engagements at TEDx and The Committee for Economic Development in Australia (CEDA).
Why do you do what you do?
People deserve to live the very best life on offer to them at any given time. In a world where the majority of people have someone they report to 'a boss'( that in many ways directs and dictates their work experience), we need to ensure leadership is up to scratch and it isn't. The ridiculous notion that everyone can be a leader has been adopted out of nativity and necessity. As a result, millions of people worldwide are having a substandard work (and personal) experience at the hands of people who have no business being a leader or shaping culture. This needs to change. In Australia and New Zealand in 2022 the average employee engagement score is 17% and yet companies continue to promote the very people who suppress culture and engagement.
Describe your talk in 100 words
I will be explaining the difference between engagement and culture. I will also be talking about the drivers of culture and the 5 things every people leader needs to be doing post pandemic to create a high performing learning culture.
What problems will your talk solve for our audience and why is it needed?
Why culture is in tatters at present post pandemic and what to do about it.
What valuable insights, strategies, tools or techniques will our audience walk away with?
I will be referring to our psychological safety tool and our culture styles tool Panorama.
What do you think will be the major differentiator of the workplace of the future, as opposed to the way we work today?
Ego-centricity and myopic leadership will be identified as the toxin it is.