17th November 2017
Finalists announced for the 2017 UK & European Employee Engagement Awards in association with People Insight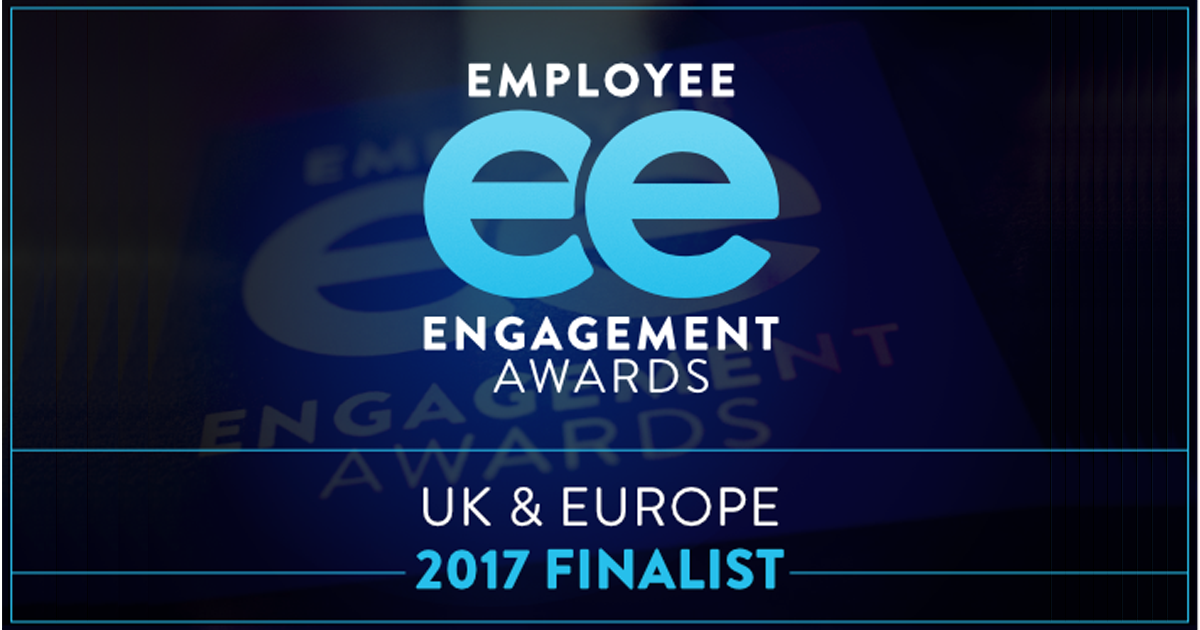 • Finalists include: BT, Coca-Cola, Diageo, DHL, Fitness First, LG, Ministry of Justice, Nissan, Post office, Royal Bank of Scotland, Southampton Football Club, Time Inc, Vodafone, Waitrose and many more…
• Winners will be announced at a Gala ceremony at Wembley Stadium on January 25, 2018
• Tables are on sale now
• Learn from UK & European finalists at the Employee Engagement Conference on March 1, 2018
London – November 17, 2017 – The 2017 UK & Europe Employee Engagement Awards, in association with People Insight, today announces its shortlist of finalists. These are the companies that the judges believe put the employee experience at the heart of their business.
Founder Matt Manners said: "It's great to see the number and quality of entries increase again this year. It shows that business leaders clearly value the difference that putting people at the heart of their organisations can make."
The winners will be announced once again at the awards ceremony at Wembley Stadium on January 25, 2018.
The EE Awards not only recognises great work but wants to inspire others to follow suit. It will host a one-day conference in London on March 1, 2018. This will profile the finalists and winners from a wide range of businesses and sectors. The conference will provide practical advice to help Engagement professionals achieve better employee engagement results. You can still secure Super Earlybird tickets here – https://uk.ee-awards.com/conference/
"It's fantastic to see such diversity in the entrants this year. Employee engagement has become 'business as usual' in organisations from the very large to the very small, across every sector. There are really clever, accessible ideas in the entries which we look forward to showcasing at the Conference in March" commented People Insight maanging director, Tom Debenham.
The full 2017 UK & European shortlist is as follows:
1. The Employee Engagement Company of the Year in association with People Insight
Charles Stanley
The Entertainer
HomeServe Membership
IG Design Group
Navionics Technologies
Priory Group
Southampton Football Club
2. Employee Engagement Enterprise Company of the Year Award (1000+ employees)
Boehringer Ingelheim
Hunkemöller
IG Design Group
Irish Life
Marks and Spencer
MetLife
The Royal Bank of Scotland Group
Virgin Care
Vodafone Group Enterprise
3. Employee Engagement SMB Company of the Year (0 – 1000 employees)
ACO Technologies plc
Arrow Business Communications
British Tennis – Tennis Lawn Tennis Association
Involvement Packaging
La Fosse Associates
Skimlinks
Southampton Football Club
Troy UK
Virgin Management
4. Employee Engagement Non-Profit/Charity Project of the Year Award
Cancer Research UK
livin
5. Employee Engagement Public Sector Project of the Year Award
Ministry of Justice
University of Lincoln
6. Customer Engagement Award
Fitness First
NIIT Technologies
PPL
7. Diversity & Inclusion Award
Diageo Plc
FanDuel
Post Office Ltd
Sandwell And West Birmingham Hospitals NHS Trust
8. Employee Reward and Recognition Award
Brewin Dolphin
Dishoom
GVC
Moto Hospitality
NIIT Technologies
Plusnet
Tata Consultancy Services
University of Lincoln
9. Employee Wellbeing Award
Arconic
NHS Business Services Authority
Sandwell And West Birmingham Hospitals NHS Trust
The Royal Bank of Scotland Group
Viacom UK
10. Employer Brand Award
Arrow Business Communications
Southampton Football Club
11. Internal Communications Award
BT
Centrica
Danske Bank
Deutsche Telekom
Inspired Thinking Group
Involvement Packaging
Karen Millen
Olympus UI
Plusnet
The Royal Bank of Scotland Group
12. Leadership Award
Lactalis
Oxford HR Technology
PPL
Time Inc UK
First Bus
13. Social Responsibility Award
GSK
RB
14. Unsung Hero Award
Capita Business Services Ltd
First
First
PPL
15. Best Use of Technology Award
DHL
Four Seasons Health Care
GVC Technology
LG Electronics
Marks and Spencer
Nissan
RB
The Coca-Cola Company
Waitrose
16. Employee Engagement Consultancy of the Year Award
Benefex
Cirrus
Dragonfish
H&H
Instinctif Partners
NSU Media
purplecubed
SYLO Associates
17. Employee Engagement Vendor of the Year Award
10Eighty
Benefex
Engage Solutions Group
LifeWorks
Maritz Motivation Solutions
Meetoo
Open Blend
Peakon
Play Consulting
Exclusive Media Partner
HR Grapevine is the exclusive media partner in UK & Europe.
Sponsorship
There are a few opportunities remaining for companies to sponsor the awards & conference. For more information please contact [email protected]
About People Insight
People Insight are a specialist employee engagement and culture consultancy that help HR leaders make people decisions so that their organisations thrive.
We deliver people surveys and visualisation, HR analytics and consultancy support. We help our clients understand what's happening with employee engagement, wellbeing and culture, so they can make the right people decisions for real business benefit. What's more, we provide hands-on support to make the changes that will drive results.
The Employee Engagement Awards (EE Awards) is the first and only global, dedicated Employee Engagement Awards & conference business. We believe in inspiring and educating people to remake the way organisations think about, and engage, people to achieve their purpose.
That's why we created, and continue to improve, the Employee Engagement Awards; to provide a platform to recognise excellence in engagement that inspires action and drives the industry and the employee experience forward.
Entering and hopefully winning, The EE Awards will provide you with industry acknowledgement and an important competitive advantage to attract the best talent.
For more information on The Employee Engagement Awards:
Matt Manners
+44 (0)203 3711 877
+44 (0) 7799876473
[email protected]
www.ee-awards.com
#ee_awards
LinkedIn Group: The Employee Engagement Awards