16th February 2021
Stories from an Inspiring Leader – Gemma Bolt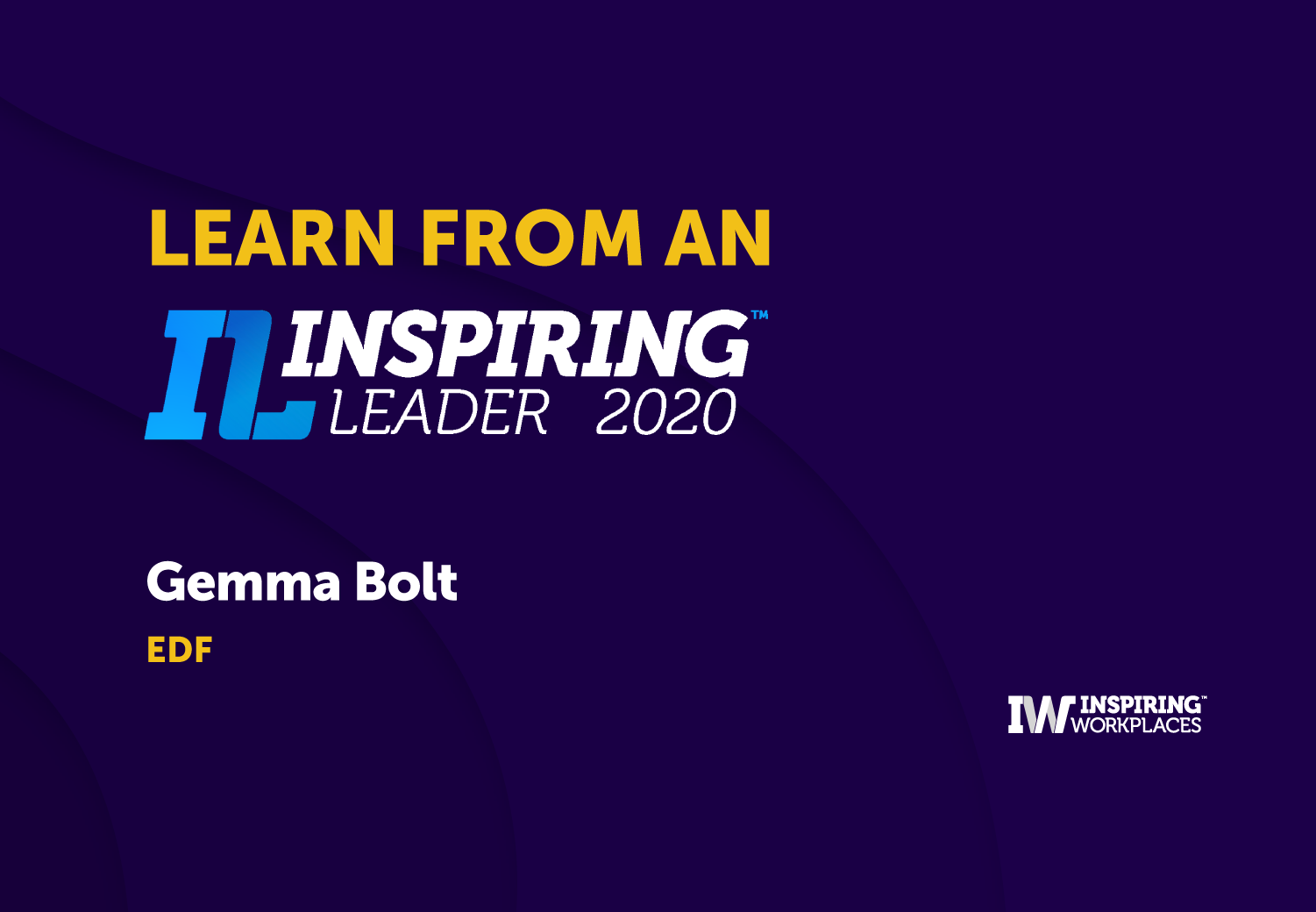 Gemma Bolt, Senior Manager Data and Controls, EDF
Leading from the front. In a few short weeks, we have entered a crisis unlike anything most of us have ever seen. A crisis that naturally left us overwhelmed, afraid, worried and concerned for ourselves and others. Gemma has proactively demonstrated principles of purposeful, human leadership, putting people and customers first. Right now, purpose really matters, and Gemma has spent time with her teams and worked together to do the right thing. She has given the freedom while all working from home for us to rise to challenges and delivered motivational, clear, consistent, and transparent communication. I'd recommend and shine a light on the fantastic work that Gemma does in a heartbeat. She would class this as just doing her job but her commitment to the industry and its future is exemplary.
Gemma is passionate about colleagues and customers. She channels this passion to promote development opportunities that make sure we're forward thinking and engages with subject matter experts to grow her knowledge and understand how the industry and customer needs are evolving. Gemma also champions the industry by leading a diverse and inclusive workforce. Recognising the power of diverse thinking and backgrounds and challenging different ways of working to tackle complex problems. This is demonstrated by the way she stretches her peers and team to go beyond the possible.
Gemma is openminded, ensures her team has the right skills to perform effectively and efficiently. She consistently aims to understand her team members on a deeper level by knowing their skills, areas for development and motivations. This helps us to not only survive but thrive.
Endorsement
"Gemma is truly admired among peers, senior leadership, colleagues and her direct reports. She trusts and empowers her team to work with agility, grow knowledge and skills by establishing an effective working relationship which ensures we add value and make substantial contributions, so our customers and community remain at the heart of all we do. I truly have an immense amount of gratitude for the way she has supported me on a learning journey in a new role that enabled me to become high performing very quickly and likewise support others to make a difference for EDF customers every day."
About Inspiring Leaders
The extract above is taken from the Inspiring Leaders 2020 initiative which recognised exceptional leaders during the Covid-19 pandemic. You can download the full eBook with all the leader stories here.
Inspiring Leaders was created as a vehicle to recognize people who stepped up to help individuals, teams and organizations navigate personal and business challenges, and make a contribution to make their business, their community and the world a better place.
Due to the success of IL 2020, we have brought it back in 2021. We are now open for nominations. For more information about how to enter Inspiring Leaders, dates and fees – click here.