06th June 2022
Guest Blog: 6 Ways to Get Your Remote Employees Excited and Engaged Again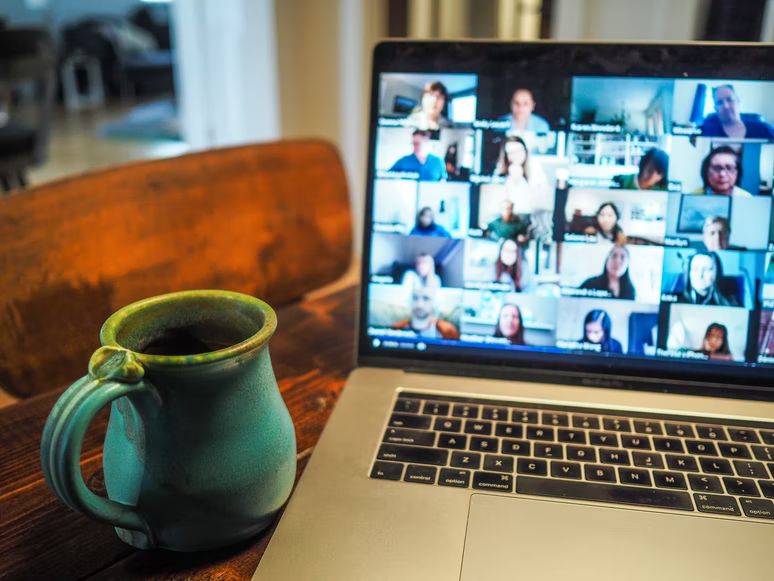 To help employees feel fulfilled, motivated and productive, leaders need to take active steps to keep their employees  feeling appreciated, excited and engaged… But, when you have a remote workforce, and the chances are that you do, that is easier said than done.
In 2022, we are seeing the rise of remote working continue as many companies are capitalising on its benefits such as access to a wider, more global talent pool and reduced operating costs. Technology makes it possible to work from home without losing social connection or contact via virtual events and face-to-face video conferencing. This article explores how you can leverage technology and other engagement strategies to keep your remote employees excited to log in day after day. Here are six ideas that you can implement today.
Recognition Programs
The first thing that you should do when it comes to appreciating and energizing your employees is to look to technology and recognition programs. Essentially, these are software platforms that help you to identify the top performers in your team by collecting and compiling data from management, peer, and customer reviews; as well as surveys and the goals set by the leadership team. 
There are many great recognition programs, including Bonusly, Nectar, and Workhuman, among others. In addition to feeding managers information so they can praise their employees, many of these platforms will also allow co-workers to see each others performance and encourage a supportive culture 
While you always have the option to wait until a customer gives a good review to reach out to an employee, a recognition program will ensure that you can do so continuously, and your workers will love it.
Fun Chat/Virtual Games & Activities
Although many employees love the idea of working from home, many are also suffering from the loss of   constant contact they once had with their peers in the office. To provide the face-time that your employees crave and lift their spirits after a long week, consider hosting virtual games or team chats via video platforms like Zoom or Skype. 
This could be a meeting every Friday, a virtual happy hour after work to celebrate a big accomplishment or to just blow off some steam before the weekend. There are plenty of fun team games that you can play via video, including bingo, trivia or a virtual murder mystery, to name just a few. At a minimum, spend some time talking about something other than work, like upcoming weekend plans. But ultimately, do something that helps teams connect on a personal level.
Extracurricular Activities
While team-building exercises are something that you can do in short spurts, you could also consider long-term extracurricular activities, like a book club where management sends a fun book to everyone every few months to discuss as a team. Make sure to tailor your activities to the specific culture you have in your organisation. Are your employees sporty? Organise a fantasy football league. Are you a company full of gamers? Organise an online gaming tournament. 
These fun recurring events will help your team to foster a positive environment with their co-workers and create a strong sense of belonging.
Offer Money for Fun Home Office Supplies
While a lot of people love the idea of working remotely, most are not sitting in a large home office, and in many cases, are working out of their bedroom or living room. When working out of these spaces, it can be hard to stay focused. To help employees create a more productive space and make them feel valued, consider sending your staff money or work stipends to purchase some office supplies that will help to improve their at home work station
Many companies have added these stipends into their budgets. For instance, Buffer sends out $500 per teammate so they can improve their home office set-up and a further $200 for tech needs. When you give your employees money to improve their work station, they not only feel appreciated, but also that their employer wants them to succeed.
Send Gifts Via Snail Mail
Like sending stipends, you can also surprise your remote team by sending out gifts via snail mail. These gifts may include rewards like gift cards and customized mugs, but it could also be updated office equipment or updated tech to help them do their jobs. 
But before you start sending physical packages, there are a few things that you should consider. For starters, avoid anything generic and think outside the box. Personalised gifts go a long way in making employees feel appreciated. l. Consider also sending a personalized card along with the gift that puts your appreciation for each employee in writing. 
Once-a-Year In-Person Events
Of course, the best way to stay connected is to see each other in person, which you can do with an in-person event. This get-together can be business-related, or it can be a fun adventure, but either way, it should be an activity that employees want to engage in, not something they feel forced to do, and encourages employees to spend time learning about their colleagues on a personal level. 
When you are looking at potential trip destinations, take some time to consider your budget and also whether certain activities will exclude groups of employees. If it involves a trip away for instance, not everyone will be able to attend. In the case of a multi-day event, it is smart to have a fraction of the time dedicated to business or team building, but the majority of the time should be set aside for fun and genuine human connection. Activities could include anything from visiting a local museum to walking a historical hiking trail as a team.
As you can see, there are plenty of ways that you can engage your remote employees and help them to stay excited about working at your organization. The point is to have fun but also to listen to their concerns and create a strong sense of team and belonging. By doing all three, you will have motivated workers who will be happy to call your company home.